Teacher finds fit in Lansing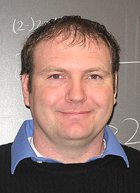 Editor's note: This continues a series introducing teachers who are new this year to the Lansing school district.
Brian Malm has tried out several careers but he always seems to get drawn back into teaching.
The new Lansing High School science teacher started his education wanting to be a veterinarian. But once in school, he said something didn't feel right. He loved science, so he visited the education school and something immediately clicked.
"It felt right. This is what I should be doing," he said of teaching. "I had good teachers in school that had an influence upon me, and I knew I wanted to pass that influence on to others."
He got bachelor's degrees in pre-veterinarian medicine and biological science education from Kansas State University. He is also currently working on a master's degree in administration from the University of Kansas and expects to graduate in May 2009.
He began his teaching career in 2000 and taught for four years before taking a two-year hiatus. During that time he worked as a plumber with J.F. Denny in Leavenworth.
"I made more money, but I wasn't happy," he said.
He said his wife finally got so tired of hearing him talk about old stories from days as a teacher that she encouraged him to get back into a school. He returned to teaching last year at Ottawa Middle School before making his way to Lansing.
"Lansing is a prestigious school district," he said. "The kids are awesome and the staff is very nice."
Malm teaches chemistry and physical science to Lansing High sophomores and juniors. He said students tend to appreciate his sense of humor and show him respect because of the personal relationships he's forged, which helps increase classroom learning.
"If you show a student you care and are interested in them outside of the homework assignments they turn in, you'll get respect," he said.
Because of time constraints, Malm said he doesn't always get to do everything he wants with his students. He said a lot of time is spent preparing for state assessments, which can sometimes take time away from larger projects. He quickly added, however, that he was not teaching for a test and used the state standards only as a starting off point.
His goal is to get the students prepared to be successful students in the next level of science while still leaving time for a little fun.
One of Malm's more interesting lessons comes from the "Jug of Death" or what is also referred to as the "Jar of Immortality." The students add bits of food into a large jar each day to see what happens while studying decomposition.
He said lessons where he can physically explain a concept tend to be the ones students learn the best. Through that learning process, he said he wants to instill a confidence in the students as they advance in the studies of science.
Even if his students don't make a career out of science, he said many concepts factor into everyday life. Having an understanding of science and the millions of objects in the world that are based on those concepts is important for all students.
"(Students) are consumers, and their future contributions to society can always be applied to science," he said.
Outside of school, Malm is busy with three young children. August, 7, and Leif, 4, from a previous marriage, and Grace, 5 months, with his current wife, Kelly, keep Malm's life interesting, he said. He also reads and cooks a lot, adding that he is the person who does most of the cooking in his house. Most people wouldn't know that he is also a closet video game fan.
Even with all his activities outside of teaching, Malm can't let himself get too far away from Lansing High. He is an assistant wrestling coach, and he coaches the sprinters during track season.