Basehor seeks return to state tourney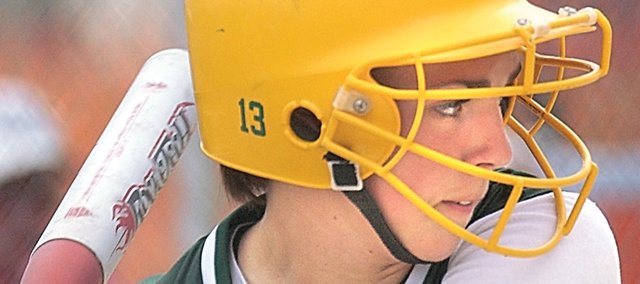 Last year's Basehor-Linwood softball team took home the first Kaw Valley League championship in school history. The Bobcats finished the season 16-4.
A long postseason run appeared within reach as the team hosted regionals and was the No. 2 seed. But BLHS's stellar season ended when they were upset by No. 6 Piper.
This year, coach Susan Mayberry said the team will take a game-by-game approach and fans can expect "an aggressive, experienced team that will play hard every game.
"Like most teams, we would have liked to have advanced further into the post-season," Mayberry said. "With that being said, we were proud of the fact that we won the KVL softball championship for the first time in school history."
Last season's disappointment should help to further motivate a team that has resolve in reserve.
"I believe that during the past three years, we have put together one of the toughest, most motivated, and resilient teams ever," Mayberry said. "This group of players is very similar to our 1998-2000 run. Anytime this group fails to accomplish placing in the state tournament, it makes them that much more determined and focused. They hate to lose."
The Bobcats lost two key players to graduation: pitcher Erin Shore and first baseman Laura Reed. Shore led the KVL in wins, going 15-2. Reed hit .322 with an on base percentage of .500. Mayberry said that both also provided great leadership.
Mayberry said the pitching staff this season will be anchored by freshman Shelby Pierce and junior Tiffany Jennings.
Veterans will lead Basehor-Linwood's offense. Chelsey Patton hit .433 with 19 RBIs, and a slugging percentage of .633 last year. Maggie Schroeder hit .364, with 15 runs scored and a .538 on base percentage. The players should ignite the Bobcats' offense.
Mayberry has also seen improvement over the offseason.
"Sophomore Caylee Smith has shown some improvement from a year ago," Mayberry said.
"She's been working in the infield. Our upperclassmen will be responsible for making the team a success. However, we also have a freshman and two sophomores who could be considered and carry themselves as upperclassmen."
Mayberry said the team would push themselves above and beyond what others might think the team can achieve.
Given the level of expectations surrounding this year's team, that might be a difficult task.
"We pride ourselves in toughness," Mayberry said. "We also expect everyone from the managers of the team to the head coach to be prepared and to give everything we can in order to be successful. We're driven to succeed. The fans can expect to see a team that hustles, attacks, and loves to play the game of softball."
The team opens on Friday at Blue Valley Northwest.