Familiar faces to lead 'Cats
Basehor-Linwood returns eight baseball players with experience playing on varsity this year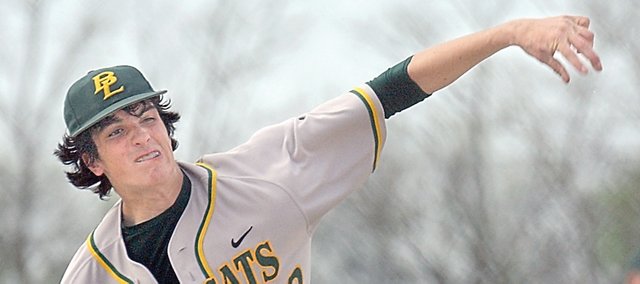 The Basehor-Linwood baseball team showed potential last year. Although they struggled to a 5-14 finish, the team only said goodbye to one senior starter, Cody McCoy, and weathered the mistakes associated with an inexperienced roster.
The dividends of the growing pains could show this year.
"Last year was full of learning experiences for all of our players," coach Dave Svoboda said. "With the exception of Cody McCoy and Augie Pierce, we really didn't have many players who had logged varsity time."
This season, the Bobcats have eight players who played a lot of time on varsity last year.
"Hopefully, that will be reflected in our play," Svoboda said.
Yet, while the group of players will not be novices to varsity play, this still isn't a veteran team as the core group of players will be sophomores.
"Two of them will be among our four starters on the mound (Ryan Lawless and Tyler Henley). So there will be a real youthful feel to our team. With Augie back, along with Tyler Miles and Travis Inlow, plus a healthy A.J. Fisher, we may have four senior starters. That will be nice."
Henley finished the year with a team best 2-1 record and a 1.54 ERA. He struck out 15 in 13-plus innings of work.
Svoboda said he wants the team cut down on strikeouts when we they are at the plate and he wants the pitchers to work from ahead in the count.
"In short, I want us to look like we're prepared for anything that might get thrown at us," Svoboda said. "I hope we can avoid allowing the one big inning that was our undoing last year on too many occasions."
McCoy said after last year that he thought the team wouldn't lose the first game of regionals this year. Last year's young Bobcats improved throughout the season, starting 2-11, but finishing 3-3, and the team hopes to continue the momentum into this season. Although McCoy led the team in batting last season with an average of .357, the next three players on that list were all freshman. Brandon Leppke hit .353, Ryan Lawless finished .339 and Tyler Henley batted .321, respectively.
Although the weather hasn't been ideal, Svoboda has been pleased with what he has seen in practice thus far.
"The year has been a good one in regard to our physical maturity," Svoboda said. "The time our kids have spent with Coach Schwisow in the weight room appears to have paid big dividends. There's a little more pop on their throws, a little more gap power in their bats."
Svoboda has seen specific improvement from a trio of seniors.
"I'm really hopeful that Miles, Inlow and Fisher can have great senior years," Svoboda said. "Each is capable of doing great things defensively and offensively."