Linwood restaurant returns after winter hibernation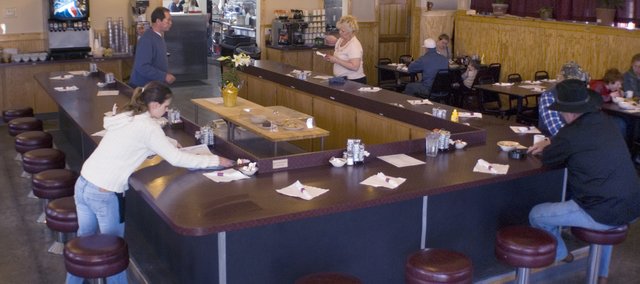 On Easter morning, Jack Dunlap and his wife Kathy, along with their son Jake, were looking for a place to get breakfast.
Taking a chance that one of their favorite early-morning eateries was open once again, they drove west on Kansas Highway 32 from their home in De Soto to the New Linwood Cafe.
"It's about the only place fairly close that we can get a decent breakfast," Jack said about the recently reopened restaurant. "We drove by to see what was going on and we got lucky."
At 10 a.m. the Linwood restaurant came out of its six-week winter hibernation and reopened its doors.
Jeff Coatney, the cafe's owner, said he made the right decision in keeping the restaurant closed.
"We just figured that the weather was going to be bad enough that it wouldn't pay to stay open," Coatney said. "People don't want to go out when the roads are bad. It turned out that the weather was even worse than we thought it was going to be."
During the off time, Coatney made some changes to the cafe. For starters, the restaurant has a new manager, Greg Krapes, and some new employees. Krapes will be in charge of maintaining the cafe's new philosophy of cleanliness.
For nearly a month, Coatney, Krapes and others moved or disassembled everything inside the kitchen to thoroughly clean every last square foot of space, from floor to ceiling.
"We are really concentrating on a sparkling kitchen," Coatney said. "We have always been clean enough to pass the health inspections, but we have decided to go the extra mile and keep it cleaner than your own home. It's going to take some effort, but we want it as spotless as we can be."
The menu has also changed. To bring more of the kind of food Coatney said people expected to eat at his restaurant, he's added some more "basic country cooking" items.
Sunday's menu was an example of the new style. For $6.99 a costumer could order such home-cooked favorites as: pork chops, fried chicken and meatloaf; traditional side dishes such as potato salad, steak fries and green beans; and to top it off, delectable desserts such as pie, cobbler or triple chocolate brownies.
This resonated well with the patrons who kept coming in until just before the 2 p.m. closing time.
"We were swamped," Krapes said about Sunday's crowd. "We must have served around 130 people."
Krapes said the opening ran fairly smoothly, but there were a few wrinkles that needed to be ironed out. He hopes that once a full staff is hired and trained, the cafe will be able to serve breakfast again and will be open from Tuesday through Sunday instead of Wednesday through Sunday.
Although breakfast items weren't available Sunday, Jack Dunlap did enjoy the meatloaf he ordered and had already made plans to come back on Saturday, his birthday.
"If [Jake] says the fried chicken is good we are definitely coming back," Jack said about his son's meal choice. "I'm a fried chicken fiend."