Mayor's special delivery: Meals to seniors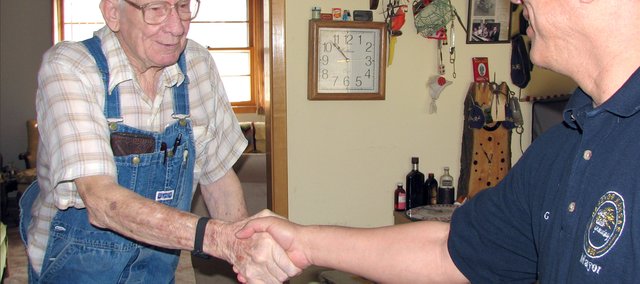 Basehor resident Marion McBrien went to answer his door Wednesday morning to receive his daily Meals on Wheels delivery and found Basehor Mayor Chris Garcia on his doorstep.
A handful of senior citizens received a house call from Garcia on Wednesday as a part of the national March for Meals campaign, which honors the inclusion of senior meal programs in the Older Americans Act. Mayors for Meals is a part of March for Meals, which is an effort to raise awareness about the need for senior meal programs in the community and nationally. According to the Meals on Wheels Web site, more than 900 mayors nationwide participated in the program last year.
"They sent me a letter and an e-mail and just asked if I wanted to participate," Garcia said about the Leavenworth County Council on Aging. "I thought it would be pretty interesting."
Garcia met Wednesday morning with Judy Guenther with the Council on Aging in the Basehor Hickory Villa Nutrition Site to gain some insight about the program and round up the meals for delivery.
A nutritious lunch is delivered to eligible homebound seniors in Leavenworth County five days a week through the Council on Aging's Meals on Wheels program. The meals are prepared in Leavenworth, then dispersed in bulk to the four different nutrition sites in the county. Each site supervisor is then responsible for preparing the correct number of individual meals for delivery in the area.
"We take care of all the Meals on Wheels in Leavenworth County, which is a lot more than you might think," Guenther said. "There are 10 or 12 routes that have 10 to 20 people on them. It's kind of like a branch on a tree and works its way out."
There are about 20 to 25 seniors that utilize the mobile meal service in the Basehor area alone, Guenther said.
Active seniors are encouraged to receive their meal at one of the nutrition sites rather than have it delivered to their home. Judy Rodina, site supervisor at the Hickory Villa Nutrition Site said anywhere from two to 11 seniors come into the site to enjoy lunch during the week. A $1.50 donation is requested for each meal.
"The food is good and it's priced reasonably," Rodina said.
"It adds a whole new social aspect for them," Guenther said. "That's why we have these nutrition sites. They need to stay active in the community. It's the same meal for the same price."
Guenther and Garcia then loaded the day's meal of meatloaf, mashed potatoes and gravy and green beans along with a fruit into the delivery van and headed out on their route.
The first stop was McBrien's home where Garcia stopped to chat with him about a collection of old election campaign buttons McBrien had come across in his home. Garcia then gave him a city of Basehor emblem pin to add to his collection.
Various conversations took place at the seven different homes Garcia managed to visit during his lunch break, from simple positive comments to local politics. Garcia said everybody appreciated the meals, but he thought the real highlight was the human contact.
"I think it was more of the contact and communication with someone outside of their families," Garcia said. "It was nice just to sit and talk and just see how things were going. It's kind of a twofold thing."
Guenther said the human interaction through the program is definitely important. While the Council on Aging offers other programs specifically designed to allow seniors a chance to visit with people, the Meals on Wheels program is just another added opportunity for social time.
"It's contact with another living being every single day," Guenther said. "Sometimes we're the only ones that check on them everyday depending on the circumstances. If they're scheduled to get a meal and don't answer the door, we will find out if they're OK in their home."
Garcia said his first experience with Mayors for Meals was a valuable one and he plans to put it on his schedule for next year.
"I thought it was very worthwhile," he said. "I had some good comments and good conversations."
Guenther agreed that the visits went well.
"I thought it was excellent," she said. "He's really a nice man and has good P.R. I think the citizens were just really happy to see him."