Excitement for reading shows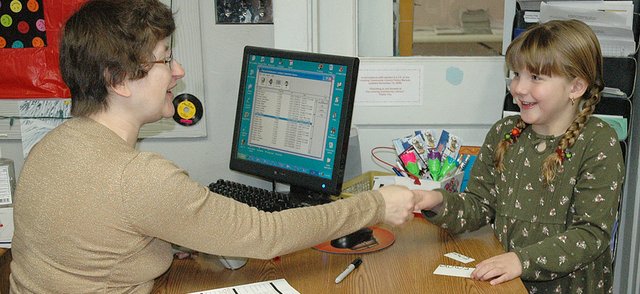 For Emma Wagner, having her very own library card was the pinnacle of turning 5 years old.
So come Jan. 30, Emma walked into the library, head held high with a smile from ear to ear. She went straight to the counter and, with her mother at her side, asked to be given the card she had been waiting so long to get.
"I just wanted my very own," Emma said about her eagerness to visit the library on the exact day of her fifth birthday.
With two older siblings, Emma has watched them check out books on their own cards and said having her own meant she was "big" like them.
The Wagner family are frequent patrons of the Lansing Community Library, 108 S. Second St., and Emma's mother, Kicia Wagner, said that reading was a priority for her family.
The library has a rule that patrons must be at least 5 years old to have their own card, so Kicia said that Emma had been counting down the days to her fifth birthday for the last three months.
"I just thought it was a great thing," Kicia said of her daughter's excitement for the library card. "Of all the things we can encourage this is probably the best."
Kicia began reading to all three of children before they were even born. She said that her enthusiasm for reading has been passed down to her children. Not only are they bright students, which Kicia attributes to their reading, but they are excited about learning.
On the very same day, another newly 5-year-old Lasing resident made her way down to the library, also excited about receiving her first library card.
Madelyn Atkins, 5, has heard for years that when she finally turned five she could get her own library card. She never forgot that, so like Emma, Madelyn made it a priority to get her first card of the day of her birthday.
Madelyn's mother, Denise Atkins, said her daughter loves to read. As an educator herself, Denise has made sure that all of her children developed the passion for reading that she has. Listening to her daughter be so happy to get her first card, Denise said she felt a lot of pride.
"Oh my gosh it's exciting," she said. "You think that as a mom you're actually doing what you're supposed to be doing."
Every night before bed Madelyn and Denise sit down to read a bedtime story. Denise said she has different tricks that keep her children excited about reading. Many times she'll stop reading the story in the middle of an exciting chapter, which makes them look forward to the next night. She also lets them use their imagination and think of different ways the story they're in the middle of could end.
But most importantly, Denise said setting a good example as a parent was key. She said she reads herself all the time and her children see that.
For a parent who sits in front of the TV all the time, Denise said there's no wonder those children don't want to read.
As librarian of the Lansing library, Darlene Dean said she always gets excited when she sees children light up at the idea of getting their own card.
"It's a magical event. It makes them one of the big kids," Dean said.
During the summer months is when most children come by the library on a regular basis. Dean said she reminds and encourages the younger ones to come in for their own card when they turn five.
"It's always exciting to see someone so interested in books and finding something that they get hooked on," she said. "It's very rewarding."