History fanatic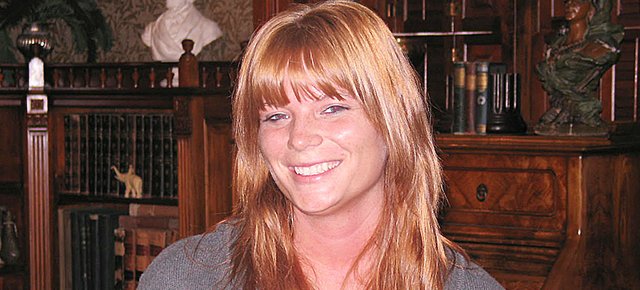 Standing in a Victorian mansion's parlor, complete with a hand-carved fireplace, parkay hardwood floors and a Chickering square grand piano circa 1889, Joanie Soukup, the newly hired curator of the Carroll Mansion in Leavenworth, remarked on her surroundings, "It's not a bad place to work."
"It's not Monticello," she said, "but it's something."
Soukup, a University of Kansas graduate student in museum studies, was hired on full-time this spring as the Carroll Mansion's curator after serving over a year in the position on a part-time basis.
She has more or less been responsible for the everyday operations of the 16-room mansion at 1128 Fifth Avenue since then.
As well as giving tours, going through the museum's collections and putting together exhibits, Soukup helps to catalogue, archive and store the museums' historical photographs and documents. She noted that, as the main repository of the history of Leavenworth County, there's a lot more to the historical society than just antique furniture.
Soukup said the society has several requests each week from geneaologists, historians and Leavenworth County residents wanting to conduct research.
Many requests, in particular, have focused on the museum's Everhard Collection, what Soukup called "one of our proudest collections definitely."
The collection of over 20,000 glass-plate negatives, dating back to the 1850s, features portraits of Leavenworth County residents through about 100 years of history.
Soukup and members of the historical society have been working diligently to preserve and catalogue all of the negatives so they can be made available to researchers and Leavenworth residents wanting old prints of their relatives.
The hope is that folks nationwide will be able to eventually view the plates and search through them online, Soukup said.
Exhibits planned for this year at the mansion are a one-room schoolhouse exhibit beginning April 15, a quilt exhibit scheduled for June 24 and a military exhibit set for November.
Those wanting to learn more about the Carroll Mansion or the Leavenworth County Historical Society can call (913) 682-7759 or visit www.leavenworthhistory.org.
NAME: Joanie Soukup
ADDRESS: Lawrence
OCCUPATION:Curator, Carroll Mansion
FAMILY: Karl Soukup, husband, and two cats
WHAT DO YOU LIKE MOST ABOUT LEAVENWORTH COUNTY? "I think being a history person, the history portion of the area is very interesting."
WHAT DO YOU DO FOR FUN? "I like to go to museums, and I like to read."
WHAT MIGHT SURPRISE PEOPLE ABOUT YOU? "I'm a Harry Potter fanatic."
WHAT IS THE BEST ADVICE YOU HAVE EVER RECEIVED? "Someone told me once to make sure your job is something you love to do."
WHAT CLUBS OR ORGANIZATIONS DO YOU BELONG TO? American Association of Museums, American Association of State and Local History, Leavenworth County Historical Society