Mayor makes house call with Meals on Wheels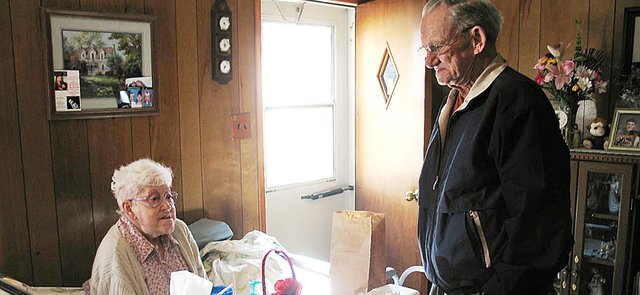 Lansing Mayor Kenneth Bernard delivered sack lunches to local seniors Wednesday, March 19, as part of the Meals on Wheels Association of America's 2008 Mayors For Meals program.
Nearly 1,000 mayors nationwide joined Bernard in delivering nutritious meals for the Meals on Wheels Association's annual event.
One of his first stops was to see Dorothy Crawford in her home at 1207 N. 7th St.
Crawford, a lung cancer survivor, is bedridden in her home and relies on the Leavenworth County Council on Aging's Meals on Wheels program to provide her with a nutritious meals five days a week.
The more than 30-year-old Leavenworth program, which serves almost 30 seniors in Lansing, is intended for homebound residents over the age of 60.
A nominal fee of $1.50 is charged for each meal delivered.
"It helps the people that are shut in and can't get out," Bernard said. "It gives them someone to talk to, and, more importantly, it provides an opportunity to check up on them. I think it's a great program."
According to Julie Angello, a dietician with the Council on Aging, each meal is carefully selected to include one-third of the recommended daily allowances of certain nutrients and must meet guidelines set forth by the Kansas Department on Aging. The meals usually include some type of meat, two starches, fruit, vegetable, milk and an optional dessert.
For Crawford, it's just nice to see a friendly face each day, and she isn't burdened with finding someone to go grocery shopping for her.
"As long as I'm sitting here (in this bed), I can't walk," Crawford said. "They do very, very good."
A senior or someone wanting to request Meals on Wheels service for an elderly friend or family member is encouraged to call (913) 684-0777.