One last masterpiece
Flynn dominates East Kansas Senior Classic in final appearance for
LHS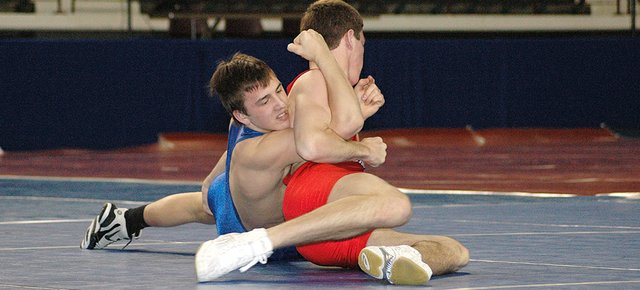 Topeka — Nick Flynn didn't spend his spring break kicking back on the beach in some tropical location.
Unless, of course, you consider a wrestling room to be tropical.
Flynn, a Lansing High senior, spent most of his week off from school working out with his older brother, 2006 LHS graduate and current South Dakota State University wrestler Sean Flynn, in preparation for the East Kansas Senior Classic, and on Friday night that hard work paid off as Flynn earned a third-period pin of Labette County's Aaron Arb at the Kansas Expocentre.
"I just laid around the house, hung out with Sean, went to wrestling practice, lifted some weights and just tried to relax," Flynn said of his week of preparation. "Sean brought a roommate down, Alan Marvin, and they got in the room and kind of beat up on me quite a bit this week, so it's good experience to have some college guys come in.
"Oh, we slept in," he added, noting that spring break wasn't all work, no play. "We practiced at night. We were at 7:15 practices, so it was good."
In an event where some of the seniors appeared to be a few pounds heavier and a few steps slower than they were during the season, Flynn was as sharp as ever.
"There were no team practices," Flynn said. "But for me, I was hitting (Leavenworth County Wrestling Club) Spartans practices and I went down to (former Olympic qualifier Erik) Akin practices (at St. James Academy in Lenexa) and drilled with them. That worked me out real good."
Flynn, a third-place medalist at 152 pounds this season, had one of the evening's more entertaining matches. He took an early 2-0 lead with a quick takedown, but Arb responded with a reversal and three-point near-fall to take a 5-2 advantage. Although on his back, Flynn never panicked. Instead, he worked his way free for a late reversal that brought him within a point by the end of the period.
"He put me on my back, but I didn't feel like he had great positioning, so I wasn't too worried about the fall (pin)," Flynn said. "I just knew, 'hey, I'm on my back, I need to work out of it, come back and get the next couple points and I'll be OK."
Flynn scored another reversal midway through the second period and took the lead for good at 6-5. He added to his lead with another takedown and two-point and three-point near-falls and built a 13-6 lead by the end of the second period. He continued to work for a pin throughout the third period and finally earned one with 34 seconds left in the match.
"He was gassed at the end," Flynn said. "Once I had him on his back, he went limp and said 'I'm tired, I'm done.'"
Although he was happy to win, Flynn said he just enjoyed spending time with some of the other top wrestlers in Kansas. Unlike the Metro Classic two weeks earlier that pitted Kansas wrestlers against Missouri wrestlers, this event only included wrestlers from the Sunflower State. Flynn has known many of them for years through both high school and kids club wrestling.
"It's just a bunch of friends competing," he said. "It's not so much we're going to go out and kick this guy's butt. It's just a fun thing to wrestle in."
The Senior Classic was Flynn's final event competing as a representative of Lansing High School. He will join his brother on the wrestling team at South Dakota State University in the fall. Until then, the Flynn brothers will be on the road competing at national events. They will be in Las Vegas on April 22 when Nick competes at the Western Regional, a Fargo Nationals qualifier. Sean will wrestle at the same time at the FILA Juniors tournament, a 20-and-under event where the top two finishers qualify for the world team.