Painting a message of kindness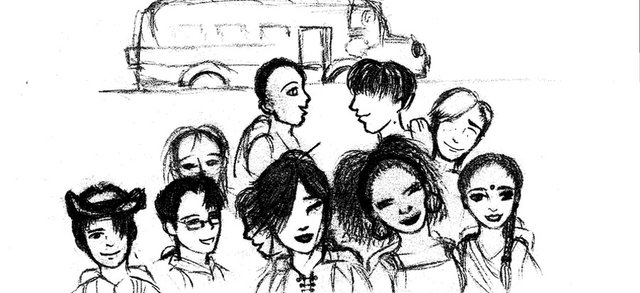 In its continuing effort to teach students about the importance of good character traits, Lansing Middle School has commissioned a task force of students to paint a mural.
The Wall of Character will feature scenes created and then painted by LMS students that depict their peers displaying character traits such as courtesy, tolerance, kindness and citizenship.
"(The wall) will be motivation," said Andrea Wecker, LMS art teacher and faculty sponsor for the project. "Students will see it as they come in and out of the school and be reminded to show good character traits."
Students interested in joining the mural's committee were asked to submit an original, free-hand drawing of what they thought should be incorporated into the final wall's design. The following students were chosen for the committee: Jared Gatson, John Lemons and Joe Schneider, from the sixth grade; Daley Wilhelm, Abbie Hilliard, Alison Davila, Jasyn Turley and Alanda Kohl, from the seventh grade.
In the coming weeks, the committee members and Wecker will meet to work on the wall's final design before beginning to paint. Wecker said that work on the mural would be done during the school day and is expected to be completed before May.
The mural, which will measure about 25 feet by 7 feet, will be located near the parent drop-off doors on the east side of the building near the cafeteria. Wecker said the location was prominent and would allow the mural to be seen by every student who attends the school.
"I hope they see it as a good way to influence students and as a lasting reminder to build good character," Wecker said. "It's important and something that will be permanent in the building so the artists should be proud of their contribution."
Wecker said she envisions this mural as a starting point for others in future years. She said as the school grows, she hopes to see the mural grow as more students decide they also want to help the cause.
"This is all part of our school's work on a an anti-bullying campaign to encourage students to display more kindness, more responsibility and more integrity," Wecker said.