Teacher enjoys staying active with
P.E.

job at Lansing High School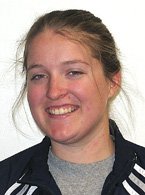 Jaclyn Sells is new to the world of teaching and making her debut at Lansing High School as a P.E. teacher.
Sells graduated from Washburn University in 2006 with a bachelor's degree in physical education. While at Lansing she is also the junior varsity softball coach, which is something near and dear to her heart.
Ever since age five, Sells has been playing sports. Her parents signed her up for activities when her high energy became too much to contain in the house. She competed in soccer and basketball, but softball is where she found her passion. It was that drive and love for the sport that led her to teaching. When she went to school she had her mind set on staying active and a physical education degree fit that perfectly.
"I was always good at sports," she said. "It came naturally to me and I like being with kids."
Since coming to Lansing, Sells said she has enjoyed working with the high school students. She said she liked playing games, like "Toilet Tag," that allowed the students to be goofy while at the same time teaching them to take fitness seriously.
"If I can get a kid active three times a week, I'm ecstatic," she said.
Sells also teaches a health section to her P.E. students. There, she said she talks about anatomy such as bones and muscles and what effect an unhealthy lifestyle can have on those. These lessons, she hopes, will help her students grow into healthy adults. She said 20 minutes of activity everyday is all a person really needs to stay healthy.
Out on the softball field, practices have started and Sells said the season is off to a great start. More than 40 girls have gone out for the team this year, which meant games had to be added to the schedule.
"It's good because more people will get to feel like they're part of the school and it will push players to improve because there's more competition," she said.
She's already seeing the camaraderie that attracted her to the sport years ago. She said she enjoyed being on a team with girls because her field as a P.E. teacher is mostly made up of men.
In the future, Sells said she'd like become a physical trainer along with being a P.E. teacher. She said she was prepared for the job by her classes in college but is waiting to take the official test until she is settled into her new job at LHS.