Bobcats slide to 3rd-place finish
Basehor routs Bonner Springs in consolation game, 8-0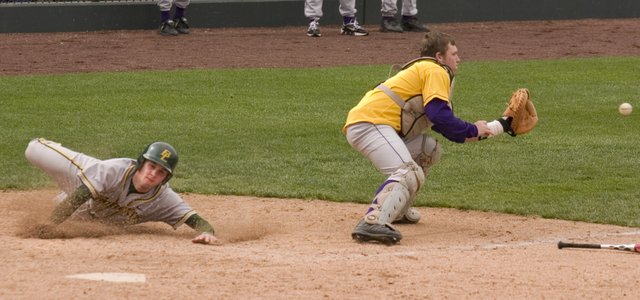 Kansas City, Kan. — The Basehor-Linwood Bobcats took third place in the Butch Foster Memorial Baseball Classic by defeating the Bonner Springs Braves on Saturday afternoon, 8-0.
The Bobcats' bats exploded early, accounting for five runs in the first two innings off six hits and a walk. They never looked back.
The Braves helped out by throwing a wild pitch in the first inning allowing a runner to score. In the second, they dropped a fly ball that should have ended the inning - instead Brandon Leppke and Tyler Henley came around to score for the Bobcats, making it 5-0.
In the top of the fifth, Basehor-Linwood pushed across a run with three consecutive singles to increase the lead to 6-0. Ben Zuk drove in Kyle Savner for that run. Moments before Zuk's hit, the crowd and players were greeted with a very noisy surprise; a military fighter jet doing a flyby over the adjacent Kansas Speedway buzzed CommunityAmerica Ballpark at sonic speed, leaving the rafters shaking and the ballpark energized.
Braves starter Ryan Morris was driven from the game in the sixth inning after Henley delivered a run-scoring triple with one out that put the Bobcats up 7-0. Isaac Mills replaced Morris on the mound and got out of the inning with no further damage.
The Bobcats added one run in the seventh to lock up the victory.
Basehor starting pitcher Justin Gripka pitched a complete game for the win, giving up four hits and no walks.
"After the way we played (poor defense) against Lansing on Monday, being able to win two out of three in a tournament atmosphere at this great facility, hopefully will be a nice springboard for us," Bobcat coach David Svoboda said. "There is no question that it helped we were able to jump on them early on offense allowing him (Gripka) to be relaxed and throw his game."
Gripka, a junior, is Basehor's most consistent starter on the season was quick to give his teammates praise.
"I was hitting my spots, the catcher made good calls, and the team backed me up pretty well," he said. "I felt pretty relaxed."
Gripka said he hopes that the Bobcats can continue to hit the ball well and go better than .500 in the second half of the season.
Leppke and Henley had three hits and one RBI a piece. Travis Inlow, Gripka and Zuk had two hits each.