Five Lions bound for state tennis tourney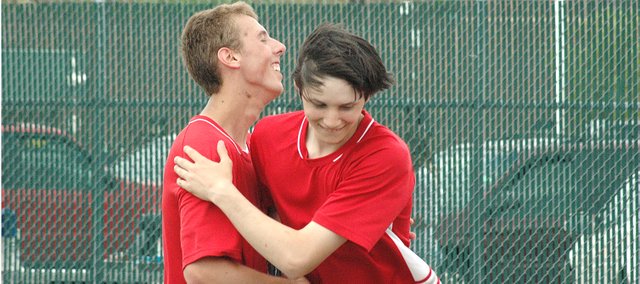 Photo Gallery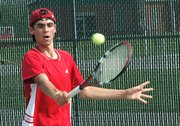 Five Lions qualify for state tennis tournament
Bonner Springs — This day was three years in the making.
Specifically, the day was Thursday.
The place was the Bonner Springs High School tennis courts, and the event was the Class 5A regional boys tennis tournament.
It was the day third-year Lansing High tennis coach Rachel Elkins had been waiting for - the day her program finally delivered a statement performance on a major stage.
The Lions did just that Thursday. Junior Ezra Carpenter and senior Mo Meyer placed second in doubles, seniors Eric Hansen and Daniel Miskowic placed third and senior singles player Ale Buogo finished third.
All five qualified for state - the first boys state qualifiers for Elkins - and the Lions finished second as a team at regionals behind state powerhouse Bishop Miege.
"Seeing the boys getting the (second-place) plaque was just unbelievable," Elkins said. "But they put the work in, and it paid off."
That work included weathering some tough regional losses during the past two years, including a defeat in the quarterfinals last year, one win away from a state bid, by Carpenter and former doubles partner Clayton Hall.
Hall played singles this year and lost in the first round to St. Thomas Aquinas' Max Robinson.
Carpenter and Meyer earned the No. 3 seed in the tournament, and they backed it up early by cruising to a 6-0, 6-0 victory in the first round against KC-Washington. They moved on to play Bishop Miege in the quarterfinals with a state berth at stake. Again they had little trouble and polished off a state berth.
They worked overtime to beat Bonner Springs' Zach Holder and Kyle Toland in the semifinals, 7-6 (13-11), 6-7 (4-7), 6-2.
The extensive match - which included two tiebreakers - took its toll on them for the finals. A bit fatigued, they dropped a 6-4, 6-3 decision to Miege's top doubles team.
Hansen and Miskowic nabbed the fifth seed in the tournament field, but they came out firing early with a 6-4, 6-0 victory over Bonner Springs' Zach Cook and Ethan Isaacs.
They faced a tougher foe in Aquinas' Alex Shinn and Dan Woodward in the quarterfinals. After battling to a 6-4 victory in the first set, they had to rally in a tiebreaker for the win, 7-6 (7-5).
At one point Hansen and Miskowic were down 5-0 in the tiebreaker, but they stormed back with a few nice returns and an ace by Miskowic before putting the match away and advancing to state.
"What's really amazing is you'll see that they're down, but they just know that they can come back now," Elkins said. "It's not just roll over. It's, 'OK, how do we get back now?' And they're able to do it. You saw that today."
They lost to Stadler and Schultz in the semifinals, 6-1, 6-1, but came back in the consolation match and claimed a 6-3, 6-1 victory over Holder and Toland.
Buogo left no doubt that he belonged in the state field. He earned the No. 3 seed, and quickly disposed of first-round opponent Kaleb Black of Bonner Springs, 6-0, 6-0. After that he registered a 6-0, 6-1 win against Sumner Academy's Jacob Beck and moved on to the semifinals.
His lone loss came as a 6-4, 6-3 loss to regional champion and German exchange student Rafael Maasberg of Miege. Buogo bounced back with a 6-2, 6-3 win against Miege's Steven Anthony for third.
Elkins said she is proud of the immense growth that she and assistant coach Linda Long have seen in the program during the past three years. She credited the players and their parents for the commitment to camps and summer programs, as well as to the players for being willing to work to get better.
"They've seen this program grow, and they're a part of it," she said. "You're dealing with high school athletes, and you can talk all you want about how we can get there and we just need to work hard, but when you actually see the results : I'm a believer. It really paid off.
"I think we're going into state with a lot of momentum and a lot of confidence, but also knowing that now the competition level goes up."
Elkins took her first player to state last fall when sophomore Amy Briggs advanced to the girls state tournament. Elkins said she learned from that experience how to better prepare a player for state, and she said it should be easier for her players to handle their nerves this time since a group is going.
Elkins also said that while she is ecstatic with the progress the program has made, she wants her players to expect more this next week.
"From my perspective, we've qualified for state, but how do we prepare this week to go compete, not just to show, but to compete," she said.