Library opens new building's doors to patrons' rave reviews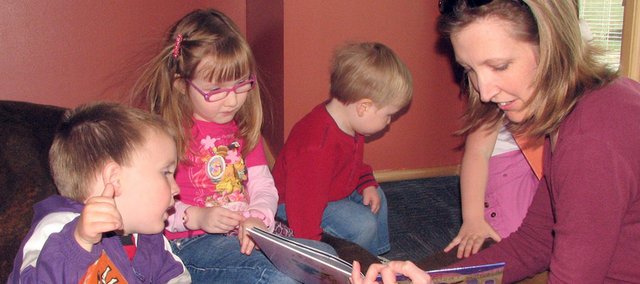 It's beautiful, it's spacious and it's open.
The Basehor Community Library opened the doors at its new location, 1400 N. 158th St., to the public at 9 a.m. Monday and welcomed a steady flow of patrons all day long.
"It did feel weird that they weren't just looking around," Carla Kaiser, library director, said. "They're actually using the library."
The children seemed to enjoy their new space to the left of the main entrance with its bright colors, new books, window seat and play area with tiny tables and magnetic train sets. The new, large saltwater fish tank near the main entrance was also a hit with children and adults alike.
Tom Keitel, one of the library's volunteer guides, said the children's area was definitely a favorite for visitors.
"They really go nuts over the kids area," he said.
Keitel said he spent his time giving tours, directing patrons to different sections and showing them how to use the new self-checkout kiosks. He said visitors commented a lot on the general newness of the library as well as the abundant space.
"There's so much room to grow," he said.
Basehor resident Ann Nelson browsed the library's new larger selection of DVDs while holding onto three new novels Monday afternoon. She said she was impressed with the amount of new books and the amenities offered to patrons such as computers and a fax and copy machine.
"I just love it - all the room and new books," she said. "Just all the things available to the community. I'm really excited to have it open."
Other visitors, such as Kathy Cruden, enjoyed the serenity the new space provided through divided sections and quiet reading areas. She spent part of her time reading a magazine at one of the tables in the adult section.
"It's a change from downtown Basehor," she said. "It's beautiful. I like it. It's nice having a place to sit down. I can see myself frequenting it more."
In the spirit of newness and extra space, assistant library director, Jenne Laytham, said they have decided to do away with overdue book fines and already have a special exhibit displayed for visitors to enjoy.
For the next few weeks, guests entering the library will be greeted by giant reproductions of 15th Century artist, Leonardo da Vinci's work printed on satin fabric hanging on the lobby walls. The three-piece Teacher's Discovery Traveling Exhibit highlights art, science and history.
The library's grand opening celebration is scheduled for next weekend, Friday, May 9 and Saturday, May 10. Friday's festivities will run from 7 to 10 p.m. and will feature an adult atmosphere with hors d'oeuvres, a cash bar and a flautist group with seven flutists. A ribbon cutting ceremony will be at 7:30 p.m. along with several speakers including special guest speaker, Kansas State Librarian, Christie Brandau.
Saturday will be Family Day at the library from 9 a.m. to 5 p.m. Events include a ribbon cutting at 10 a.m., an all day scavenger hunt with grab bag prizes for children in preschool through fifth grade, free blood pressure screenings provided by Cushing Memorial Hospital from 9 to 11 a.m., free hot dogs from First State Bank and Trust from 11 a.m. to 1 p.m., a balloon artist from noon to 2 p.m. and performances by the Kaw Valley Chorus from 1 to 2 p.m. The mouse character from the children's book, "If You Give A Mouse a Cookie" will also make an appearance.
Library Board member, Janice Garcia, said watching the patrons utilize the new library Monday was exactly what the library board, staff and supporters have envisioned since the project was in its fledgling stages more than two years ago and they are excited to bring the grand opening celebration to the community next week.
"I have loved what I've heard from our patrons," Garcia said. "It's a warm and inviting place where you want to go and stay and there is now a place for everybody. Our dream really has come true."