Guity verdict in Dollar General murder trial
Haberlein scheduled for sentencing June 27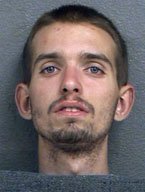 Robert Haberlein was found guilty Tuesday of the November 2005 murder of Robin Bell.
The jury in the trial, which began last Monday, returned a guilty verdict on all three charges - first degree murder, aggravated kidnapping and aggravated robbery - against the 20-year-old Kansas City, Kan., man after three and half hours of deliberation.
The sentencing hearing for Haberlein is scheduled for 9 a.m., June 27, in the Division 4 of the Wyandotte County District Courthouse.
Haberlein was the first to be tried among three people charged with murdering Bell, a Tonganoxie resident who managed the Dollar General store at 612 130th St. in Bonner Springs. Bell was found dead in the store Nov. 12, 2005 and was killed by a blow to the head with a metal tripod.
A motion hearing for John Backus, 21, of Bonner Springs, has been scheduled for May 16. Backus' trial had been set to start Monday, but he was assigned a new attorney, which necessitated the hearing. Amber Russell, 18, of Lenexa, is the other defendant, and has a deal with the Wyandotte County district attorney's office that she will be charged as a minor - she was 15 at the time of the crime - in exchange for her truthful testimony in the trials of Haberlein and Backus.
Read Thursday's Chieftain or the Web site for more details on the trial.