Jackson, Lions are
KVL

champions
Senior wins first tournament title at league meet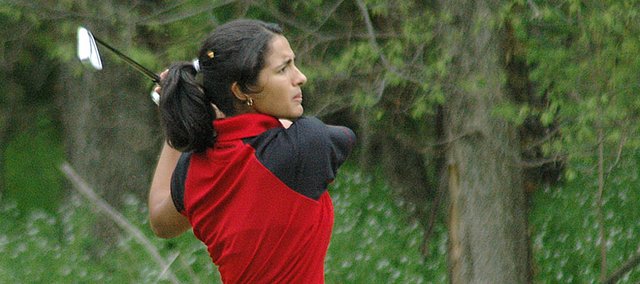 Photo Gallery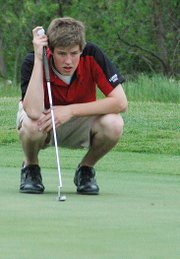 LHS wins KVL golf title
Maria Jackson has been the Lansing High golf team's first lady for four years.
On Monday Jackson was the best of the boys at the Kaw Valley League championships at Eagle Bend Golf Course.
Jackson, an LHS senior and four-year varsity golfer, won her first high school championship with a tournament-best round of 75.
"To be the only girl and win, it is pretty special," Jackson said. "I'm just so excited."
Not only was Jackson the individual league champ, she also led her team to a KVL title after placing second three years in a row.
LHS shot a four-person score of 321. Defending champion Basehor-Linwood was second at 333 and Tonganoxie finished third with 336.
Bonner Springs senior Cody Wallace placed second overall with a 78. It's the second straight year he has been the league runner-up.
Wallace and Jackson have played each other numerous times throughout their prep careers, and on Monday they were paired together along with Bishop Ward's Jack Fogarty and Basehor's Sam Mustain.
Wallace said Jackson played an impressive round.
"She made it tough to beat," he said. "She was unstoppable today. I give her best wishes."
Jackson - who committed last week to play golf for the University of Kansas - was motivated from the very beginning Monday. After all, she'd waited her entire career to play Eagle Bend. It's the site where her older brother David, a 2003 LHS graduate, won the league title as a senior.
The ultra-competitive and always-supportive siblings have spent their lives trying to outdo each other on the golf course, and this was one of the few feats where David had the edge.
Until Monday.
Jackson was steady throughout the day, hitting solid drives down the middle of the fairway and knocking down putts consistently. She was one-under after nine holes. In fact, the lone hiccup in her round came on the 18th hole when she double bogeyed. It kept her from matching the 72 her brother shot - but his round didn't lead his team to a title.
Although Jackson had the tournament's lowest score, only three golfers shot rounds in the 70s. In addition to Jackson and Wallace, Lansing's Josh Greene collected third-place honors with a 79.
Also for LHS, Kenneth Ritchey was fifth overall with an 81, Kyle Willcott was 20th with an 86, Nick Pfrimmer was 26th with an 89 and Tyler Gates was 29th with a 90.
It was Lansing's best all-around team effort of the season, and it came at the right time. The Class 5A regional tournament is next Saturday and the Lions will try to qualify a full squad for state for the third straight year.