Boyda visits in Tonganoxie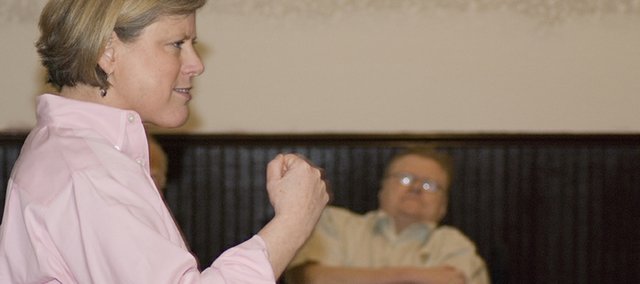 As part of the Congress on Your Corner program, Rep. Nancy Boyda paid a visit to Leavenworth County on Saturday with a stop in Tonganoxie for a community chat.
Boyda, D-Kan., spoke to an almost full room at what will become a new meeting room at Bichelmeyer's Steakhouse.
The hour and a half long meeting was followed by one-on-one sessions with the congresswoman. Veterans' affairs were among the main topics discussed, but the war, the struggling economy and Boyda's views on abortion were also talked about.
She spoke about a recent briefing she had with Gen. James Jones and Ambassador Thomas Pickering, who co-chaired an Afghanistan study group committee. Boyda said the two officials told her and other congressmen the United States was "close to a strategic failure along the Afghanistan/Pakistan border."
She said if another attack on the United States were to happen, the military would be able to respond, but would not be able to sustain the effort.
Boyda also wanted to clarify her stance on taxes. She explained that she would fight to keep tax cuts for the middle class, but wanted to increase the taxes for big companies and individuals in the top 1 percent income level.
Boyda also defended her stance on abortion after an audience member asked her to explain her stance on the issue and told Boyda she couldn't be trusted like her predecessor Jim Ryun because she would "get all Nancy Pelosi."
"I believe that a woman should have the right to make the personal private medical decision within the first four months of her pregnancy," Boyda said. "And I will fight to make sure that a woman can make that personal private decision."
Boyda and her staff also used the time to honor George Stewart, Tonganoxie, and Morris Storhaug, Basehor, with medals for their military service.