Commissioners break ground, approve developer's request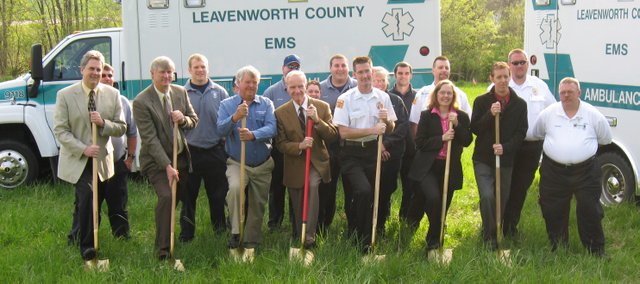 Leavenworth County Commissioners, Emergency Medical Services personnel and architects with Overland Park-based Horst, Terrill & Karst broke ground Monday on the site for a new EMS station, located south of the intersection of 16th Street and Metropolitan Avenue in Leavenworth.
The $847,000 construction project will be contracted through Kearney, Mo.-based Trickle Construction and financed using a state statutory bond and a performance bond issued by Safeco Insurance.
The new facility is targeted for completion in 2008.
Following the groundbreaking, commissioners unanimously approved issuing three building permits to Bob Conely, the developer of Rocking C Estates, west of the City of Tonganoxie on Evans Road, and issuing further permits in the 28-lot subdivision on a lot-by-lot basis.
The approval of building permits for Conely's development had been put on freeze by the county public works department until the electric provider, Leavenworth Jefferson County Electric Cooperative, notified the board that electric lines had been laid.
The cooperative verified that arrangements had been made to extend service to lots Nos. 1, 11 and 12, and Conely said that trenching had begun for other lots in Rocking C.
Commissioner Graeber said he agreed that the subdivision would be beneficial to the future growth of the county, but he said, as reasoning for the board's concern, "We have an obligation to look out for the people buying homes in Leavenworth County."
"If a lot is sold, it will have electricity to it," Conely assured the commission.
In business Tuesday, the board:
¢ Approved, 3-0, change orders for the planned countywide communications upgrade that will reduce the net cost for the program originally estimated at $12.4 million by nearly $900,000.
The main items removed from the project are the addition of a communications tower in Shawnee and a backup communications trailer for that tower.
Additions to the project include a monopole for the existing tower at the county Justice Center, encryption software for five sheriff's department radios and modification of equipment at the Tonganoxie, Kickapoo and Bonner Springs tower sites.
County Counselor David Van Parys reminded commissioners that change orders would be "innumerable" during the "complex, compound" project.
¢ Approved, 3-0, at EMS director Jamie Miller's request, the purchase of 13 automated external defibrillators that will be installed in all county buildings.
The defibrillators are specifically made for the layperson in the event of emergency. They include vocal instructions and can only be activated when medically needed.
The approximately $24,000 purchase is with Cardiac Science Corp.
¢ Unanimously approved adjusting the entire county pay scale by an agreed upon cost-of-living increase during each year's budgeting process.
¢ Discussed institutionalizing specific job duties for the county administrator position but delayed approving a formal document.
Duties suggested included: reviewing all departmental budgets as submitted to the county clerk; being involved when an employee has been in an accident or when an employee may be up for termination; and reviewing any public documents for policy and legal issues.
¢ Met in executive session with Community Corrections director Mikel Lovin for a period of 25 minutes to discuss personnel matters.
¢ Met in executive session with Morgan and Van Parys for 10 minutes to discuss the acquisition of real property.