Grants to fund historical centers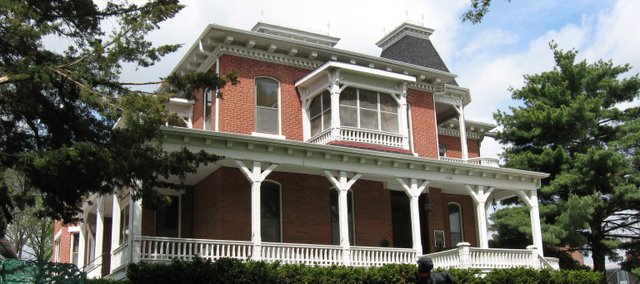 Leavenworth County commissioners indicate they will continue to help fund area historical centers using competitive cultural grants.
Commissioners last year budgeted $106,635 for nine different entities the Leavenworth Historical Society housed in the Carroll Mansion, the C.W. Parker Carousel Museum, the Tonganoxie, Basehor and Lansing historical societies, the National Fred Harvey Museum, the Richard Allen Cultural Center, the First City Museum and the Carnegie Arts Center.
With the 2009 budget cycle approaching, it seems the board will again ask local museums to submit grant requests for public funding.
All three commissioners voiced support for the cultural grant process in Thursday's board meeting but said they would remove dates and dollar amounts from last year's application before approving an updated document.
"I feel an obligation to some of those organizations that have been here and have been the historical background of this community for a number of years," Commissioner Clyde Graeber said. "We need to continue looking at some way to support them."
Eligible under the cultural grants would be county not-for-profit organizations needing support with program, acquisition and preservation-oriented projects that focus on culture or are of a historic nature and could spur tourism in Leavenworth.
Although grant money is not to be used for the salaries of full-time personnel, it could be used for specific projects or exhibits or to pay researchers or part-time staff.
Commissioner J.C. Tellefson mentioned several other projects with cultural significance - including a cleanup and cataloguing of unkempt cemeteries in the county, the Kansas Sampler Festival and a Freedom's Frontier National Heritage Area commemorating Bleeding Kansas and the history of the state in the mid-19th century - that would be worthy of board funding. But Commissioners Graeber and Dean Oroke said those projects, if approved, would have to be budgeted elsewhere.
In other business Thursday, the board:
¢ Approved, 3-0, contracting with Delich, Roth & Goodwillie, P.A. Engineers for an in-depth survey of all 149 bridges in Leavenworth County.
¢ Reinstated, 3-0, a safety incentive policy for county employees that remain accident-free.
Under the new program, employees will be entered into a drawing for two $25 cash bonuses each month they are not involved in an accident. Two $100 bonuses will be handed out each year to employees with no more than one accident.
¢ Discussed site location for new administrative offices for the county Emergency Medical Services department. The current headquarters are located at 1296 Eisenhower Road.
Commissioner Clyde Graeber suggested modifying county-owned property west of the Leavenworth County Health Department on Eisenhower Road to accommodate the project.
¢ Met in executive session for one hour and 15 minutes to discuss property acquisition.