City building inspector educates students in honor of safety week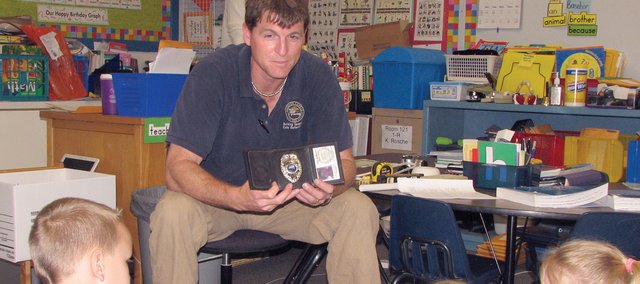 Homes made out of straw and sticks are no match for the huffing and puffing of the big, bad wolf.
The fate of the homes of two of the three little pigs was used Tuesday to demonstrate the importance of building safety to first-graders at Basehor Elementary School as a part of Building Safety Week, May 5-11.
"I make sure buildings are built with the correct materials to make them strong and safe," Mark Lee, city building inspector and code official, said to the class. "We don't want homes to fall down like the pigs' made out of straw and sticks."
Lee, who has been with the city of Basehor for four years, said he has come across Building Safety Week every year, but decided to present the proclamation to the city council this year to make it official.
The week, supported by the International Code Council, is designed to bring awareness to the building safety industry.
The students received a short job description and examples of the materials and tools Lee uses everyday. Students learned that a team of people including architects, engineers, builders and inspectors contribute to all building safety.
"All of these people do their part to make sure these buildings are safe," he said.
From a small 10 foot by 12 foot shed in a backyard to the new Basehor Community Library, one of the city's largest projects, Lee must go out to the site and make sure each step of the project is built according to the city code.
One of his first projects when he became the building inspector was to update the city's building codes, which hadn't been done in 12 years.
"So many new building materials were not addressed in the old codes," he said in an interview. "We were really letting work go that was outside the realm of the building code."
He may visit a home construction site 12 to 15 times and more visits are required for a commercial project, but Lee said it's rewarding to see a project through from beginning to completion.
This year's Building Safety Week theme was "Building Safety: Where You Live, Work and Play," and Lee said that embodies the role he plays.
"My job is to make sure people are safe where they work play and live," he said. "That's really the gist of the job."
Students received a Building Safety Team Pledge certificate, a sticker badge and a Codie the Cougar Building Safety Activity Book to take home and share with their families. Lee said he hopes to continue speaking to the classes every year and would like to bulk up the activities during Building Safety Week in upcoming years.
"I just kind of wanted to do it to see how it went over," he said. "I think they had fun."