Lady 'Cats spoil Senior Night at
BSHS
Patton, Pierce provide spark during sweep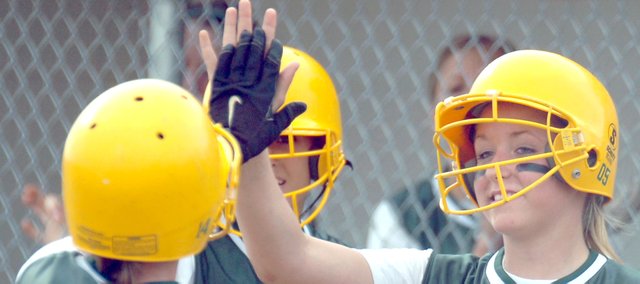 Basehor-Linwood swept Bonner Springs in a softball doubleheader Monday.
The night followed an all-too-familiar trend for Bonner with a close loss in the first game, followed by a blowout in the second game.
In the opener, Bonner took 2-0 lead in the bottom of the second inning. Sadie Kelly was hit by a pitch to start the inning. Then Carli Turner singled. Lady Bobcats pitcher Shelby Pierce struck out the next two batters, but a clutch hit by Nancy DeLeon settled into right field and allowed both Kelly and Turner to score.
Back on the mound, Kelly held the Bobcats in check, frustrating them until the sixth inning when Chelsey Patton tripled. She scored on a throwing error that allowed Megan Rehm to reach base. Rehm scored on a double by Kara Douglas and tied the game at 2-2. The momentum clearly swung to the Lady Bobcats.
"Our defense is our spark. If we can pitch and play defense long enough for our bats to get going, we can produce runs in a hurry," Basehor-Linwood coach Susan Mayberry said.
Jennifer Sirridge, Patton and Rehm each had run-scoring singles, and Patton and Rehm scored safely on two wild pitches to cap Bonner's five-run seventh inning.
Basehor shut down Bonner in the bottom of the seventh to preserve the 7-2 victory. Pierce got the win on the mound for the Lady Bobcats.
In the second game, Basehor held a 3-0 lead going into the top of the sixth inning. The BLHS players met just outside of their dugout and energetically shouted, "Let's bat around" before the inning started.
Not only did they bat around, they sent a total of 11 hitters to the plate and scored six runs while their lead ballooned to 9-0.
Patton accounted for three RBI during the offensive onslaught with a mammoth home run over the center field fence.
"(Patton) was pretty locked in; she was focused," Mayberry said. "Sometimes as coaches we talk about seeing things before they happen, and this was in slow motion. She got all of it. It's fun watching her play."
Pierce allowed only five hits in the second game.
Basehor plays Tonganoxie in a doubleheader on Thursday before heading to regionals next week. Locations and times will be announced Saturday.
In between games Monday, Bonner Springs honored its senior class of Kelly, Chelsea Crouch, Wendy DeLeon and Ashlee Espinoza. They received commemorative softballs, gifts and flowers.