Storms cause 2,200 to lose power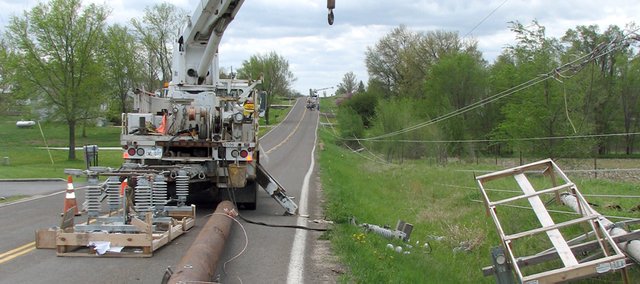 Severe thunderstorms combined with violent winds caused Basehor residents to lose electricity late Thursday and early Friday.
Westar crews were called out to 158th Street and Metro Avenue about 4 a.m. Friday to assess damages and begin repairs on 11 downed power line poles. Not only did the storm damage affect an estimated 2,200 Basehor residents, but it also closed 158th Street from Metro Avenue to Kansas Highway 32.
Erin La Row, communications representative for Westar Energy, said most customers' power had been restored by Friday afternoon, but at least one was still without power.
"We started noticing problems at almost midnight," she said Friday. "They are working on it to get the power restored as quickly as possible."
Glenwood Ridge Elementary School was still without electricity Friday morning. Basehor-Linwood school district Superintendent Bob Albers said GRES parents were informed through the district's automated calling tree about 7:15 a.m. that classes would be cancelled at the school for the day.
"The last we heard about 10 o'clock was that it would be anywhere from eight to 18 hours," Albers said Friday afternoon about restoring the power at the school.
On top of re-routing school buses Friday morning and afternoon because of the 158th Street closure, Albers said the storms also caused some damage to GRES.
"We lost an outdoor storage building and there is probably some electric motors that were burned out," he said. "We'll have to wait for the electricity to come back on to determine that, but I don't think it's anything that will keep us from having classes once the electricity comes back on."
Power was restored to the building Saturday and the students were back to school on Monday, Albers said. At this point, students are still within the required number of attendance hours, so GRES students will not have to make up the missed day of school, he said.
Despite the power outage, damage and debris throughout the rest of the city was minimal compared to the damage storms caused last month, City Superintendent Gene Myracle said. Public Works crews finished clean up on Tuesday.
"We picked up probably 12 loads of brush," Myracle said. "Storm debris was minimal from this one."