Craig is dual champ at league track meet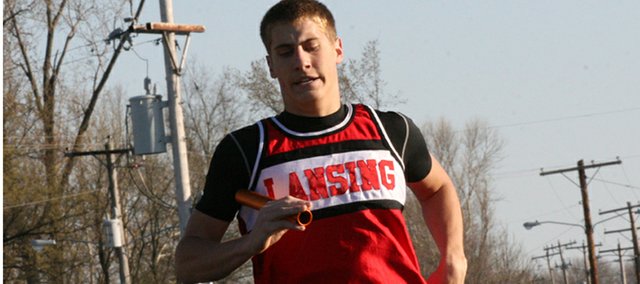 Brandon Craig has secured his position as the premier distance runner in the Kaw Valley League.
The Lansing High sophomore won the individual cross country title at the KVL championships last fall. On Wednesday he won gold in both distance races - the 1,600- and 3,200-meter runs - at the league track meet at Santa Fe Trail High School.
Craig won the 1,600 in 4:40.01 and raced to a victory in the 3,200 in 10:17.53.
Craig's performances helped the LHS boys to a fourth-place finish at the meet with 78 points. Mill Valley won the team title with 142 points, Bonner Springs was second with 129 and Tonganoxie was third with 95.
Will Johnson won a league championship in the triple jump with a leap of 43 feet, 6 1/2 inches, and Bobby Hauver cleared 12-0 in the pole vault to win the event for the second straight year.
Also winning a league crown was the 3,200 relay team of Jim Mayes, Aaron Potter, Griffin Davis and Hauver. They won the event in 8:43.71.
The 400 relay team of Johnson, Matt Robbins, Brenton Smith and Chris Hill placed second in 45.54, and the 1,600 relay team of Potter, Smith, Nick Kelloff and Mayes was fifth in 3:44.14.
Brenton was a placer in two individual events, finishing fourth in the 400 in 54.03 and fifth in the 200 in 24.45.
Also for Lansing, Kelloff finished fourth in the 300 hurdles in 44.17; Hill was fifth in the shot put with a heave of 42-3 1/2; Pete LaMoe was sixth in the 3,200 in 11:26.47; and Mayes was seventh in the 1,600 in 5:06.58.
Sophomore Lauren Jaqua paced the LHS girls to a sixth-place team finish with 46 points. Mill Valley won its eighth straight KVL title with 175 points, outdistancing runner-up Tonganoxie by 22 points.
Jaqua was the league champion in the 3,200, winning the race in 12:33.03. Teammate Julia Winkler was fifth in the race in 13:29.78.
Lansing's next best finisher was Alexis Ellis. She placed second in the discus with a throw of 111 feet, 10 1/2 inches.
The LHS 400 relay team placed third in 52.48, the 3,200 relay team was third in 10:54.97 and the 1,600 relay team was fourth in 4:30.53.
Sarah Nielsen finished fourth in the 1,600 in 6:09.90; Elizabeth Decker was sixth in the pole vault with a clearance of 7-0; Megan Sullivan finished sixth in the triple jump with a leap of 31-7 ¾; and Carley Brown was seventh in the 100 hurdles in 18.03.