Former firefighter files for commission
William (Bill) Merkel will join two other southern Leavenworth County Republican candidates - John Flower and Marvin Torneden in an Aug. 5 primary election for the 3rd District Leavenworth County Commission seat.
Merkel, who filed for the position Friday with the County Clerk's Office, is running on a platform of change.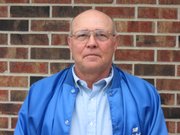 "I think it's time to put a little bit more responsibility in the office," he said, "and it's time to put it back to the voters."
A construction and excavating worker and former firefighter, Merkel has served as assistant fire chief and township trustee of Reno Township for the past three years.
He grew up in Lawrence and moved in 1995 to Leavenworth County, where he lives with his wife, Ann.
When asked why he would encourage residents to vote for him, Merkel said, "We've had a lot of things that weren't true, weren't voted on or were forgotten about : I expect to be straightforward with the voters and truthful to the voters. I would like to bring the goings on of the county commission to the voters on a monthly basis."
As of yet, three candidates have filed for the 3rd District seat, which will be vacated by current Commissioner Dean Oroke in January 2009. No Democrat has yet filed for the office.
Candidates for all elected offices must file or withdraw their bid for office before a June 10 deadline.
Following the August primary, a general election will be held Nov. 4.
For more information or to register to vote, contact the Leavenworth County Clerk's Office at (913) 684-0421.