Tonganoxie vet makes trip to
D.C.

with state group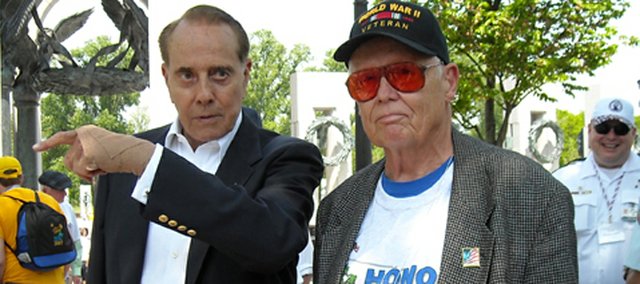 Robert McCullough's recent trip to Washington, D.C., only lasted one day, but its memory will last for the rest of the 83-year-old World War II veteran's life.
McCullough, who lives about eight miles southwest of Tonganoxie, joined 34 other veterans from Kansas and Missouri on May 3 in an all-expenses-paid trip to visit the National World War II Memorial in the nation's capitol.
"You could say it was touching, edifying," McCullough said of the memorial, which was dedicated in 2004. "I'd seen pictures of it and heard descriptions, but I guess it's a little different going there and seeing it yourself."
McCullough's trip was fully subsidized by Honor Flight, a not-for-profit organization founded by a Springfield, Ohio, physician in 2005. It has sent hundreds of veterans to Washington, D.C., to view national war memorials.
The majority of its funding comes from fraternal organizations and personal donations.
Honor Flight's Kansas hub is in Lyndon, and about 50 students from Lyndon High School joined the Kansas delegation on its trip.
The veterans and students, who flew to Baltimore and took a bus to the WWII memorial, were greeted by such Kansas dignitaries as former U.S. Senator Bob Dole, a WWII veteran himself and the fundraising chairman for the national WWII memorial.
McCullough, who served in the United States Navy in WWII and the U.S. Air Force in the Korean War, also recalled being particularly affected by a group of supporters that lined the highway on the way to the memorial.
"We were surprised to come out of the breezeway, and there were about 100 people smiling and waving their flags," McCullough said. "Someone must have tipped them off that we were coming."
At the WWII memorial, the former soldiers sang "God Bless America" and laid a ceremonial wreath around the Kansas pillar, one of 56 representing states and territories involved in the war.
McCullough said he regretted not having time to make it to the Korean War Veterans Memorial, but he has plans to return to Washington, D.C. for a longer stay in August.
"I just want to go back while I am still able, and I'm still able," he said.
McCullough was 18 when he was drafted to serve in the U.S. Navy in 1943.
"You didn't have much choice back then," he said.
More than half of the students in his high school class at the former Delphos High School near Minneapolis, Kan., did not graduate because of the war effort.
McCullough served as a medic in WWII and was assigned to the Navy's amphibious corps, which landed troops on enemy beaches, in Okinawa, Japan, in 1945 before returning stateside and treating wounded soldiers in military hospitals in Hawaii, San Diego and San Francisco.
He later received a degree in education from Kansas University before heading to the University of Colorado for medical school.
McCullough then worked as a family physician for almost 45 years before retiring in 2004 and moving to the Tonganoxie area.