County pulls plug on new electronic billboards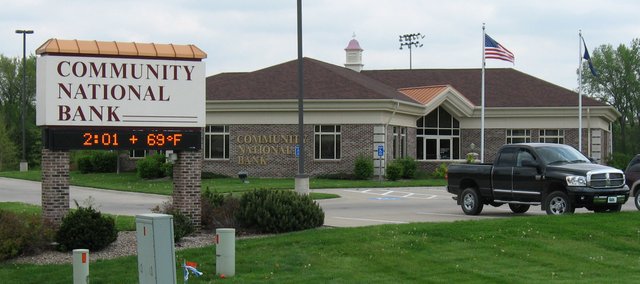 County commissioners on Thursday approved a moratorium on new electronic billboards in unincorporated Leavenworth County for a period of six months.
The commission's action was prompted by recent requests for permits from Magic Media Inc. and Lamar Advertising Company to replace existing billboards off Interstate 70 in southern Leavenworth.
Planning and zoning director Chris Dunn said the county's current regulations do not make any mention of digital billboards and the moratorium would give his staff adequate time to prepare a recommendation for the board for further policy decisions.
He added that certain electronic advertisements - because of their brightness or non-static displays - could distract drivers and pose a safety hazard for those traveling area streets.
"Without any sign regulations that address this kind of technology, we possibly could have animated signs distracting drivers," Dunn said.
"You might want to look at it from whether that's an appropriate use for this community," he told commissioners.
Dunn added that billboards are most often dually permitted in Leavenworth County, so any commercial advertisements that are visible from a state highway must be permitted both by the county and the Kansas Department of Transportation.
Commissioners unanimously approved the moratorium, in essence putting a "freeze" on the building or replacing of digital billboards unless a successful appeal is made.
In other business Thursday, the board:
¢ Unanimously approved releasing a request for proposals for new recording equipment and computers in two courtrooms used by the district court.
Tracy Dugger, Information Systems assistant director, said $20,000 was budgeted for the expenditure for 2008.
¢ Approved, 3-0, letting bids for new printers in the County Treasurer's Office.
County Treasurer Janice Young said $27,230 had been budgeted in the department's equipment reserve fund over the past three years for the expenditure.
¢ Approved, 3-0, a one-year contract agreement with Joe Roth, a part-time commercial and industrial property evaluator in the County Appraiser's Office.
¢ Met in three separate executive sessions totaling one hour and five minutes to discuss personnel.
In business Monday, the board:
¢ Adopted, 2-0, with Commissioner Dean Oroke abstaining, a new vacation-leave policy for county employees.
Under the policy, an employee can accrue up to 144 vacation hours in one year on the job but cannot carry over more than 144 of those hours from one year to the next.
¢ Voted, 3-0, to reallocate approximately $13,700 out of the 1st Judicial District Juvenile Justice Authority's budget for juvenile prevention programs toward startup costs for a Big Brothers Big Sisters branch in Atchison County.
¢ Tabled, 3-0, a contract renewal with the Johnson County Sheriff's Office to house its overflow inmates in the Leavenworth County Jail at $52.50 per day.
¢ Met in executive session for 15 minutes to discuss a personnel issue and potential litigation.