Dairy Days approaches with new attractions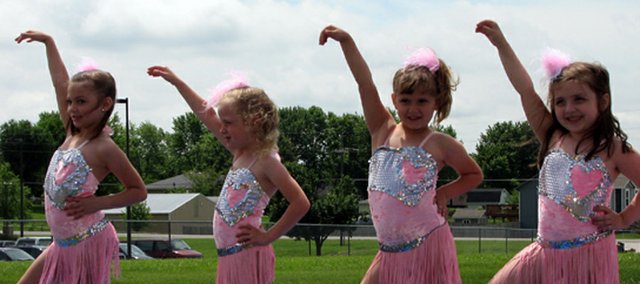 Run a 5K, enjoy some live music and take a ride on a mechanical bull at this year's Basehor Dairy Days.
The third annual festival is set for Saturday, June 7, and is expected to offer some regular favorites as well as a few new attractions.
"It is a great opportunity for businesses to come out and promote themselves," said Dairy Days coordinator Melanie Morris. "We're really working hard to bump it up a notch every year."
A Dairy Days tradition is a morning 5K Fun Run, which will begin at 7:30 a.m. this year near the south end of the Basehor-Linwood High School parking lot.
"It's going to be the same route as last year," Jim Beach, coordinator for the event, said.
All ages and fitness levels will be able to partake in the event since participants can either choose to run or walk the course. Medals will be awarded to males and females in each age group as well as to the overall winner of the run.
Beach said sponsors and runners are still needed for the event and business names will go on the back of the runners' T-shirts. Runners are asked to sign up and pay the $20 entry fee by May 29 to receive a T-shirt, however, runners can also sign up the day of the event. Entry forms can be found at the Basehor Community Library, Casey's General Store or by contacting Beach at (913) 636-0085 or jimscores@yahoo.com.
"The funds will go towards the rebuilding of the parks in the city," Beach said.
The kids will have fun on the giant inflatable moonwalk, hanging out with the Kansas City T-Bones baseball mascot Sizzle and watching the Shriners' Clowns make balloon animals. Adults may choose to take advantage of the free health screenings, stroll through the rows of craft booths or get a massage from a local massage therapist.
Some favorite performance groups will be back at Dairy Days this year to entertain the crowd as well, including the Marching Cobras drill team and the Motion band.
"The KC Cobras are returning this year and that was a huge draw for us with all of their energy," Morris said.
Residents may remember Motion from the Basehor Community Library's Summer Concert Series in the Park last year or the inaugural Dairy Days. The family band performs retro, classic rock and country selections and has been known to get people dancing.
"They were out at the park and everybody really enjoyed them," Morris said.
A new attraction will be Safe Harbor Prison Dog adoptions. The not-for-profit organization rescues dogs mainly from high kill shelters or puppy mills, then the dogs are fostered by inmates at the Lansing Correctional Facility. Once their handlers feel they are ready, the dogs are put up for adoption.
Coordinators Wendy and Brett Peterson said there will be anywhere from five to 10 dogs at Dairy Days ready to be adopted that day as well as photos of other dogs that are available for adoption through the program.
"They can go straight to their new owners at that point," Wendy Peterson said. "We have any and all - big, little, short, small - you name it."
Brett Peterson said there were always plenty of dogs to be adopted since the goal of the organization is to take in as many dogs from the Kansas City area as possible and they adopt an average of two dogs per day. All the dogs are housetrained, know basic commands and obedience and are spayed or neutered, tested and treated for parasites and microchipped.
"They are not so much highly trained or skilled dogs, but we have dogs that make good house pets," he said.
The Petersons will also be promoting their Safe Harbor boarding facility located on Briar Road in Basehor at Dairy Days. For more information, go to their Web site at safeharborprisondogs.com.
Morris said there is still inexpensive, booth spaces available and more information or a complete schedule of events for Basehor Dairy Days can be found at cityofbasehor.org or by e-mailing basehordairydays@yahoo.com.
"Vendors like to come to it because it's an inexpensive way to promote their business and we get a good 600 people seeing their craft or items for sale," Morris said. "It's a nice, safe community event to take time and relax with friends and family with great music while enjoying some great festival food."