Pirates sink Bobcats in regionals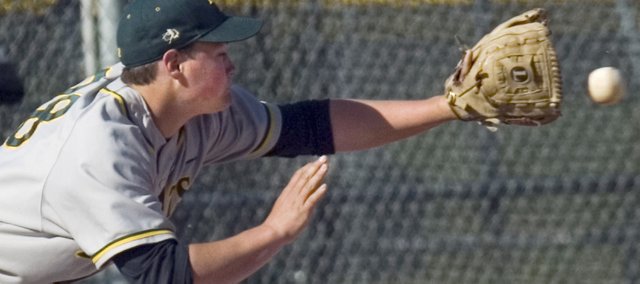 Things spiraled out of control for Basehor-Linwood very quickly Monday night in regional competition against Piper.
The Pirates jumped all over Bobcats starter Justin Gripka early, knocking him out of the game after only one out had been recorded and six runs had scored, and led 9-1 after the first inning. The Bobcats were not able to undo the damage, eventually falling 13-4, and ending their season.
After the game, coach Dave Svoboda lamented the events of the first inning. But he pointed out it started at the top half of the frame, when the Bobcats had the bases loaded and one out. Already one run had come in and BLHS looked poised to put a crooked number on the scoreboard. Instead a double play ended the inning.
"In the top of the first, we had a good opportunity to get them on their heels," Svoboda said. "It didn't happen, and then in the bottom half we played defense like a team on their heels. And Justin just tried to be too fine."
Three first-inning errors did nothing to aid Gripka or his replacement, Tyler Henley.
Gripka's place as the team's postseason starter was solidified with a sterling 1.94 earned run average during the regular season.
"Justin deserved to be out there," Svoboda said. "He pitched well all year and he is a deserving all-league guy. One bad outing doesn't diminish that."
The Bobcats showed resilience after the early setback by not giving up. A run-rule looked inevitable after the first inning, but the pitching and fielding both improved.
"They have shown great maturity," Svoboda said of his team. "After the nine-spot in the first inning, it could have gotten out of hand. But it didn't, and that is a testament to the growth of the team."
TJ Giomi and Kyle Savner pitched well in relief for the Bobcats, allowing only two runs in three-plus innings of combined work after it appeared that Piper's offense wasn't going to slow down.
The Bobcats finished what was once a promising season at 9-12. Was that a disappointment?
"Yeah," Svoboda said. "Considering we were at one point 8-6 and then we went to 9-12, it is a disappointment. But our last seven games were against outstanding teams - programs that we aspire to be like."
When asked if he considers the ending of the year to be a damper on the season after the team appeared to turn a corner, Svoboda was uncertain.
"I can't answer that right now," he said. "During the postgame we challenged them to take a one-day break and then start working again. The sour taste should help motivate you. I could see a lot of improvement this year. We made a lot of progress, going from five wins last year to nine this year. But I don't think we'll know how this affects us until next year."