Searching for the 'big score'
Mushroom hunters scour area for much desired morels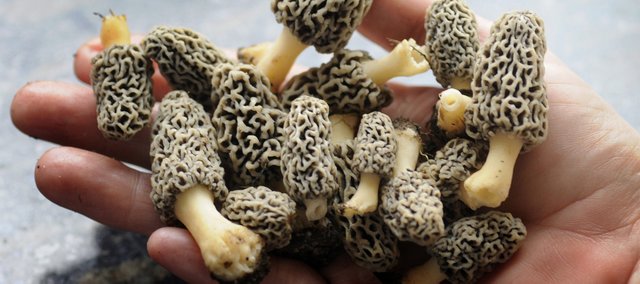 When James Long looks out at his lilac bushes and sees the first signs of blooms popping up, he knows that the long-awaited mushroom season has arrived.
First come the grays and the blacks with the early lilac blossoms, followed by the "goldies" when the plant's flowers reach full bloom.
"The lilac bush will tell you everything you need to know about the mushroom season and when to go in your area," he said. "They're dead-on."
Long, of Edwardsville, has been hunting mushrooms in the area since he was a teenager. He recalls exploring fields with his brother and coming upon "some odd-looking things" that scared him. He went home to his father for answers, at which time he found a passion that would stick with him long into the future.
"(My dad) told me to go back out there and pick them," Long said. "Now I get excited anytime springs rolls around. It gets you started after sitting on your butt all winter."
This season especially has been plentiful with the area's mushroom supplies. Long said the lack of a late frost and the snowy winter, plus a wet spring made conditions perfect for mushrooms.
"Humidity is key, I believe. The more moisture you get, the more excited you get," he said.
Long goes mushroom hunting with dreams of "the big find." Besides the extra exercise, Long said the reason he enjoys mushroom hunting so much is the thrill of finding a crop that no one else has discovered yet.
"When you climb up on top a hill and see hundreds, now that's a find," he said. "You feel like the king of the year."
The places where Long searches for, and then hopefully finds, mushrooms is always kept a secret. He even admitted that he's lied to people who inquire about his "secret spots." He said as soon as you tell one person, everyone knows and then you can be sure "you'll never get another one" that season.
"Its kind of like adult Easter egg hunt," he said of the competitive nature.
For Jimmy Lamberd, of Edwardsville, the thrill of mushroom hunting comes in the form of batter-fried mushrooms.
"There's a big difference," Lamberd said. "The ones in the store are like garden fresh mushrooms, which are ok, but they can't beat a morel."
After picking a fresh batch, Lamberd smokes them in water for a couple hours and then puts them in the icebox in a zip-lock bag that is left open a crack. When he's ready to eat them, he rinses them off, cuts them in half and gives them a light coat of batter before frying them.
"I probably I enjoy the morels more than just about anything else," he said.
Like Long, Lamberd began mushroom hunting as a child. Many people in his family - including his grandfather, father and mother - were all mushroom hunters. He remembers going out with those family members and says everything he knows about mushroom hunting has come from experience over the years.
Lamberd said he could tell spots to hunt by the leaves on the trees. If the leaves on the trees have grown in thick and are darker in color, mushroom hunting won't be good in that area. He said he looks for trees that have leaves that are a light fluorescent, lime-green color.
When he finds the mushrooms, Lamberd said it's important to be careful to not pull the whole root up. If that happens, he said it was a good chance a mushroom will never grow back there. He also uses a laundry bag with holes in it to carry his mushrooms in on a hunt. The holes allow for spores that break off to fall to he ground and, hopefully, grow in that area in the coming years.
Lamberd has already tried to pass along his knowledge of mushroom hunting to the next generation. His oldest son, who is 12, loves mushroom hunting, Lamberd said, and was already going out with his father at age 5. While he doesn't actually like eating the mushrooms, Lamberd said he likes getting out in the woods in search of a patch.
His youngest son is still too young to venture out into the woods but Lamberd can tell he's going to have another young hunter on his hands.
"Me and youngest boy are the only ones that like mushrooms in the house," he said. "We're real lucky because that means we get them all to ourselves."