Seniors prepare to get diploma tonight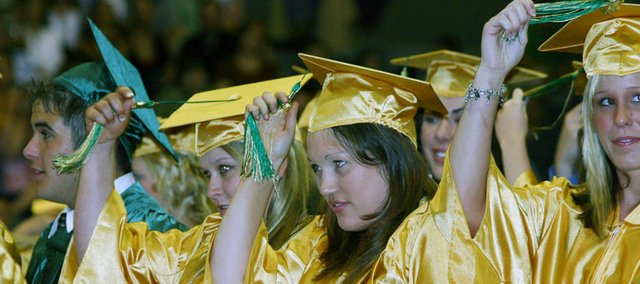 There will be 147 graduates walking across the stage tonight, including 139 Basehor-Linwood High School students and eight Basehor-Linwood Virtual School students.
The BLHS Commencement ceremony will begin at 7:30 p.m. today in the large gymnasium with the soon-to-be graduates entering to the traditional "Pomp and Circumstance" performed by the BLHS band.
After the National Anthem, principal Sherry Reeves will address the graduates before the valedictorians deliver their speeches to the class of 2008. Reeves said the number of valedictorians has not yet been determined, but she expects there to be multiple students receiving the title, as in past years.
The BLHS choir will then perform a piece called "The Good" from the musical "Wicked," followed by a performance from the band entitled "Salvation is Created."
One well-rounded student who has displayed leadership skills and participates in community service activities will be announced as the recipient of the $10,000 Faye Carney Gehl Scholarship before Basehor-Linwood School Board President Randy Cunningham and the rest of the board members present the diplomas.
The students will exit to "Stars and Stripes Forever" and will then head off to celebrate their accomplishments in Project Grad, a drug and alcohol-free celebration at Power Play Entertainment in Shawnee.