Graduates saluted for 'raising the bar'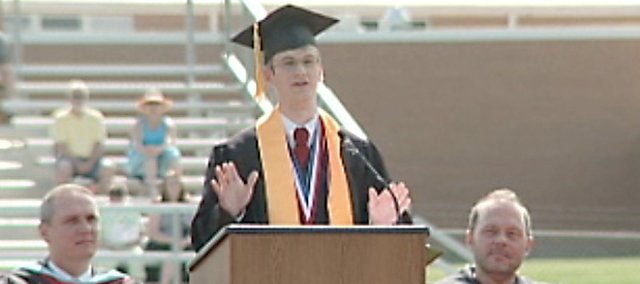 Members of Lansing High School's Class of 2008 were hailed for their academic and athletic achievements and their community service during graduation ceremonies on Saturday.
Shelley Gowdy, president of the Lansing School Board, told the graduates she's been on the board five years, and in each year she wonders in what way will that year's graduating class stand out.
This year, Gowdy said, there were numerous ways. Lansing's Class of 2008:
¢ Had seven students score 32 or higher on the ACT college entrance exam.
¢ Had 62 students earn scholarships to two- or four-year colleges.
¢ Had one National Merit Scholarship finalist; one Commended National Merit Scholarship recipient; and two National Merit Achievement Scholarship winners.
¢ One appointee to the U.S. Naval Academy.
¢ Four students entering the Army Reserve Officer Training Corps.
¢ League, district, regional and state champions in sports, drama, choir, forensics and debate.
¢ Collected thousands of dollars for leukemia research.
¢ Collected more than 1,000 items of food and clothing for the Mayor's Christmas Tree Fund.
"You have, once again, raised the bar," Gowdy told the graduates.
Speakers at the ceremony, which was Saturday at Frank Graham Field, included Brittany Shelton, senior class president, and seven other senior members of LHS Leadership; salutatorian Liane Swisher; and valedictorian Hal Laurence.
Have a picture from Saturday's LHS graduation you'd like to see online? Submit it to lansingcurrent.com by clicking here