Memorial Day ceremonies start Sunday with military brass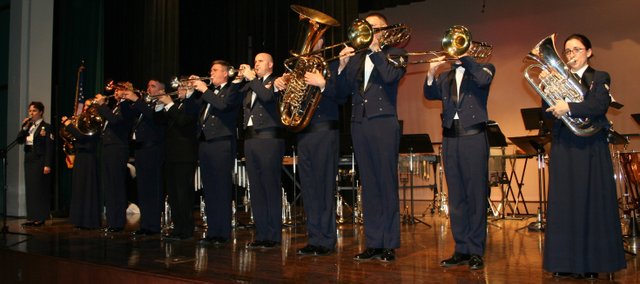 The Leavenworth National Cemetery Memorial Day Committee has been busy making preparations for this year's Memorial Day ceremonies, which include a special, free concert and patriotic revue by "Brass in Blue," a professional ensemble of active duty musicians stationed at Offutt Air Force Base in Nebraska.
The offshoot of the United States Air Force Heartland of America Band is a 10-piece brass band with one percussionist and one vocalist that tours the Midwest playing orchestral transcriptions, patriotic favorites and jazz standards.
Brass in Blue's Leavenworth debut is at 3 p.m. (doors open at 2:30 p.m.) Sunday at the Leavenworth High School Auditorium, 2010 Tenth Ave., followed by performances Monday at the Leavenworth National Cemetery and the Fort Leavenworth National Cemetery.
"It's nice to cross services and support the other armed services in our area," Staff Sgt. Ben Kadow, a trombonist in Brass in Blue, said of the group's upcoming visit.
For more information on Sunday's performance, contact Diane Smith at (913) 651-0410 or by email at dsmith8325@kc.rr.com.
TRADITIONAL CEREMONIES
Traditional Memorial Day ceremonies begin at 9 a.m. Monday at the Leavenworth National Cemetery followed by another at 11:40 a.m. at the Fort Leavenworth National Cemetery.
The guest speaker at the first ceremony - the 122nd Memorial Day service of its kind - is Kansas Rep. Candy Ruff, D-Leavenworth.
The Fort Leavenworth salute battery and color guard will present and retire colors, and the fort's 500th MP Battalion is to perform a 21-gun salute, which Memorial Day chairman Jeff Meid said "is pretty impressive."
"Believe it or not, there are so many people in Leavenworth that don't even know this is happening in our city," he added, encouraging anyone with a friend or relative that has served in the Armed Forces to attend.
Meid said volunteers would help visitors park upon entering the Muncie Road entrance to the cemetery.
The Leavenworth Guidance Center will also provide three general transportation buses running from Building 19 on the Veterans Affairs campus - the former dining hall. Shuttles start running at 8 a.m. and will run until the ceremony begins. For more information, contact Jamie Quinley at (913) 683-1179.
For more information on the Leavenworth National Cemetery ceremony, contact Meid at (913) 683-3482.
Col. Tim Weathersbee, Fort Leavenworth Garrison Commander, will speak at the fort's ceremony at the Fort Leavenworth National Cemetery.
Weathersbee, Combined Arms Center Command Sgt. Maj. Philip Johndrow, and Mrs. James H. Rogers, President, Lt. Thomas Blair Chapter, National Society United States Daughters of 1812, will lay a wreath at Henry Leavenworth's grave. Col. Henry Leavenworth established Fort Leavenworth in May 1827 and was a veteran of the War of 1812.
Parking on Fort Leavenworth is available at the Frontier Conference Center parking lot, which is across the street from the Fort Leavenworth National Cemetery. Visitors can expect delays entering the fort because of security requirements.
For more information about the ceremony on post, contact public information officer Tisha Johnson at (913) 684-1718.