State representative to bid for upper chamber
State Rep. G. Thomas (Tom) Holland, D-Baldwin, officially submitted his bid for the 3rd District Kansas Senate seat, filing for the position at the Douglas County Courthouse Tuesday.
The six-year veteran of the Kansas House of Representatives joins current senator, Roger Pine, R-Lawrence, on the list of candidates for the 3rd District seat, representing voters in Tonganoxie and Basehor as well as in western Leavenworth County, eastern Douglas County and Jefferson County.
Should no one else file by the June 10 deadline, the two would meet in a Nov. 4 general election.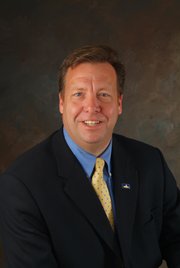 Holland introduced himself Monday: "I have been an independent voice for constituents in the Kansas House for six years, and I want to bring my advocacy for the people to the upper Chamber. The people of the 3rd Senate District need somebody who represents working families and small businesses, and I want to be that voice."
A small business owner himself, Holland founded and has been president of Baldwin-based Holland Technologies Inc., an I.T. consulting and professional services firm, for the past 13 years.
He is a graduate of the University of Minnesota with a master's degree in business administration and has lived with his wife, Barbara, and four children in Baldwin since 1993.
While serving in the Kansas House, Holland said he helped pass various legislation, including the Homestead Property Tax Refund for seniors and a bill reducing the corporate franchise tax for small businesses in 2004.
He is the ranking Democrat on the House Tax Committee and sits on the Health and Human Services and Government Efficiency and Technology committees as well.
Asked what issues are of most importance to him in the upcoming election, Holland noted making health care more affordable and accessible for all Kansas residents, a commitment to funding for public schools, growing the economy with well-paying, steady jobs and securing affordable energy throughout the state.
He said he has been "incredibly disappointed" with the current state Senate's inaction regarding illegal immigration and vowed to introduce legislation that would seek penalties on employers who hire undocumented workers.
"It is imperative that we protect working Kansans' wages as well as businesses who play by the rules by punishing those employers who knowingly, intentionally hire illegal migrants," Holland said.
He encouraged 3rd District voters to participate in this year's election process, saying, "How your representatives vote in Topeka directly affects your pocketbook, your livelihood as well as opportunities for you and your families. It's critical that Kansans learn about the candidates and their positions on the issues and then get out and vote this November."
For more information on the 3rd District Senate race or to register to vote, contact the Leavenworth County Clerk's office at (913) 684-0421.