Four Lions nab medals on day one of state track
Jaqua, Craig place in 3,200; Hauver has record day in pole vault; Ellis slides onto medal podium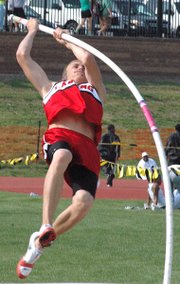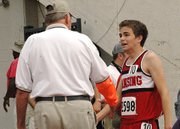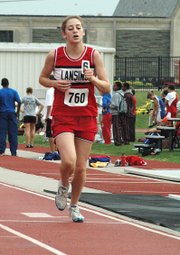 Wichita — The Lansing High track team couldn't have asked for a much better start to the Class 5A state track meet at Cessna Stadium.
Four Lions have medaled so far, and more will compete Saturday.
"When you think that the last two years we've gotten skunked down here, so yes, I'm very happy," LHS coach Errol Logue said.
A few of the kids that got skunked last year used their experience of being there and turned it into results this year.
Sophomore Lauren Jaqua set the tone in the first race of the day on Friday when the battled to a seventh-place finish in the 3,200-meter run. It marked the first career track state medal for Jaqua as she finished in 12 minutes, 6.95 seconds.
A few minutes later, fellow sophomore Brandon Craig raced in the 3,200 and joined Jaqua on the medal stand. He bolted to the front of the pack during the first 200 meters and led the way for the first mile. He eventually slipped to ninth before fighting back to finish sixth and collect the first track state medal of his prep career in 9:54.37. Craig's time was a career best and marked the first time he has broken the 10-minute barrier.
Also Friday, senior Bobby Hauver earned a fifth-place medal in the pole vault after clearing a personal best 13 feet, 6 inches. Hauver had just one miss before attempting 14-0.
It marked the second straight year Hauver has posted a personal best at state.
"He's been such a great kid besides an athlete," Logue said of Hauver. "He's this great football star (quarterback), great basketball star that everybody looks up to, and he's worked with our young kids. He's been just terrific, and I've complimented him, because instead of coming out and being a big star he's come out as a great team leader."
First-year track athlete Alexis Ellis, a junior, was the last Lion to medal on Friday. She finished seventh in the discus with a toss of 112-0.
The girls 400 relay team of Carly Brown, Jennifer Totleben, Michelle Collins and Andy Darden will return Saturday to try to collect a medal. They turned in the sixth fastest time in the preliminaries at 51.24.
In other events Friday, Brown finished 14th in the 100 hurdles in 17.81, Will Johnson was 15th in the triple jump at 41-8 3/4 and Elizabeth Decker competed in the pole vault but didn't clear the opening height.
Also, the girls 1,600 relay team of Amanda Mitchell, Totleben, Jaqua and Kate Meara was 16th in 4:27.62.