Scouts flood national cemetery with stars and stripes
Memorial Day 2008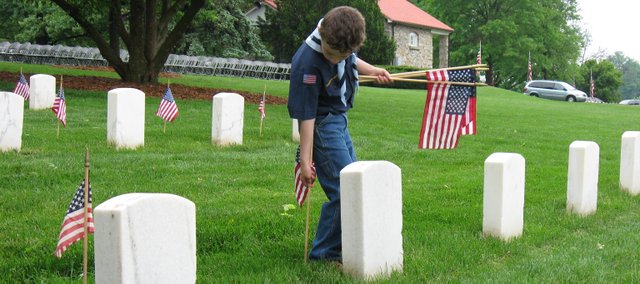 For more than 200 area Boy Scouts and Cub Scouts that arrived Saturday morning at the Leavenworth National Cemetery, it took only an hour to stake approximately 30,000 miniature American flags before each headstone in the military resting place.
The effort, coordinated each year by the Leavenworth National Cemetery Memorial Day Committee, began at 9 a.m., when wooden crates loaded with the small American flags were opened and scouts began filing up and down the rows and rows of graves at the national cemetery.
Jeff Meid, commander of Lansing Veterans of Foreign Wars Post 12003 and chairman of the cemetery's Memorial Day committee, said of the annual event, "It's quite an undertaking. It really shows respect for our country's veterans."
The real difficulty, he added, was finding enough hot dogs to feed all the Scouts after they were through.
Cub Scouts throughout Leavenworth County participated in Saturday's event, and Meid complimented, in particular, the coordinated efforts of a group from Platte City that sorted through all 30,000 flags, discarded some and making needed repairs to others.
Asked why he participated in the flag-laying Saturday, Devon Hale, a 9-year-old Webelo Scout with Olathe Cub Scout Pack 3777, said, "To honor the people that died trying to protect our country's freedom."
The red, white and blue regalia will be in place for Memorial Day services set for Monday at 9 a.m. at the national cemetery, northeast of the intersection of Kansas Highway 7 and Muncie Road in Leavenworth.