County Public Works goes to four-day work week
With construction season in full swing, Leavenworth County Commissioners talked roads and bridges Thursday, approving various expenditures for the Public Works Department and authorizing a seasonal move to a four-day workweek for county work crews.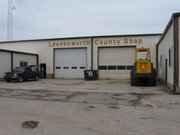 Public works director Mike Spickelmier said the adjusted schedule, which will run from Memorial Day to Labor Day, is intended to reduce fuel costs, decrease mobilization and job site setup times and will lead to an approximately $11,100 savings in lost productivity over the course of the summer.
"What we're really looking for is an increase in efficiency," he said.
Work days for affected employees at the county shop will now begin at 6:30 a.m. and end at 5 p.m., adding up to still 40 hours on the job each week.
Spickelmier noted that administrative offices and the county shop would continue to be staffed eight hours a day, five days per week and assured commissioners, "We do not anticipate any lapse in service."
The commission approved the revised work week, 3-0.
The board also unanimously approved contracting with Delich, Roth & Goodwillie, P.A. Engineers for engineering services in replacing County Bridge E-45, north of Easton, at an estimated $75,000. The Kansas Department of Transportation is to match 80 percent of those costs, Spickelmier said.
Pavement markings on hard surface roads in the county will be outsourced this summer through Strait Line Striping at $181,300, compared to the $180,000 budgeted for in-house paint striping for 2008, without taking fuel, labor or equipment operation costs into account.
The board also voted, 3-0, to purchase an air-conditioning reclaiming unit for the county shop at $3,295 from CarQuest Auto Parts, expend up to $10,000 to repair the camshaft on a county oil truck and re-let bids for a medium-duty sign and box truck for the public works department.
In other business Thursday, the board:
¢ Was asked for counsel from George Lingenfelser, township trustee of Stanger Township.
Lingenfelser alleged at the board meeting that two other elected township officials have been in violation of Kansas Open Meetings Act requirements and have approved certain township expenditures including improvements to the old McGinnis School in Stranger Township with meeting proper township board approval.
County counselor David Van Parys said county commissioners have little jurisdiction over elected township officials but suggested Lingenfelser take the issue to the County Attorney's Office.
¢ Reviewed the county's liability insurance coverage with Mike Reilly of Reilly & Sons Insurance in Leavenworth.
According to Reilly, the county has $51 million in blanket coverage on nearly all county-owned buildings.
County counselor David Van Parys also noted that insured values for equipment associated with the on-going countywide communications upgrade would be need to be added to the county's policy as that project progresses.
¢ County administrator Heather Morgan told the board to anticipate reviewing an added change order for the communications upgrade amounting to either $433,000 or $691,000 for a tower site that would back up equipment on the system's main Eisenhower Road tower.
She said a group of herself, Emergency Management director Chuck Magaha, Undersheriff Ron Cranor and Van Parys met Wednesday with representatives from Motorola and discussed two options for a backup site splitting five channels at the Bonner Springs- and Easton-based towers or putting all emergency channels on the Easton tower.
¢ Approved, 2-1 (with Commissioner J.C. Tellefson opposed), an exemption from a moratorium on building permits along County Road 1 for Roger Cruz, who owns two, 20-acre deeded lots one mile south of Interstate 70 and a quarter-mile east of County Road 1 on Cantrell Road.
Cruz said he plans to build a second home on the property for his son's family.
¢Met in two 10-minute executive sessions to discuss potential litigation.
In business Tuesday, the board:
¢ Heard Morgan report that staff would present official cost projections for the countywide communications upgrade to commissioners Thursday during administrative business, which begins at 9 a.m.
Morgan said the figures needed to be forwarded to the Kansas Department of Transportation by Friday so bonding could begin for project.
¢ Agreed to budget $2,500 for Smart Start, an early childcare and development center in Leavenworth, for 2009 out of the county alcohol and drug fund.
¢ Voted, 3-0, to vacate an unopened stretch of road between County Road 14 and Santa Fe Trail in northern Leavenworth County that Van Parys said is "unlikely to serve a public utility."