Craig nabs second state medal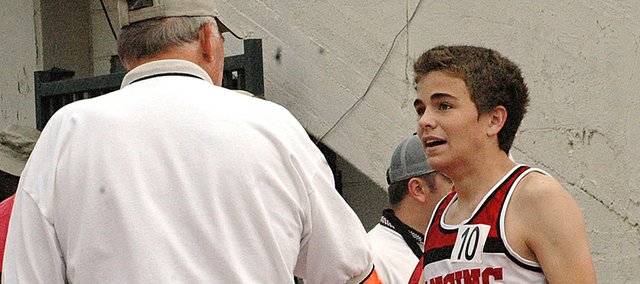 Lansing High sophomore Brandon Craig nabbed his second medal of the Class 5A state track meet on Saturday when he finished seventh in the 1,600-meter run in 4:36.15.
Craig finished sixth in the 3,200 on Friday.
Also joining Craig on the medal stand on Saturday was the girls 400 relay team of sophomore Carly Brown, sophomore Jennifer Totleben, freshman Andy Darden and junior Michelle Collins. They placed sixth in 51.59.
Freshman Nathan Wessel nearly medaled in the javelin. His toss of 152 feet, 11 inches landed him in 10th place, less than three feet behind the seventh-place finisher.
The girls 3,200 meter relay team of sophomores Sarah Nielsen, Melanie Pilkington, Julia Winkler and Lauren Jaqua finished 14th in 10:52.41.
The boys 3,200 relay team of seniors Jim Mayes, Griffin Davis, Bobby Hauver and freshman Aaron Potter was 15th in 8:53.31.