Fifth just fine for Ogilvie
Basehor-Linwood senior thrilled to end career as state medalist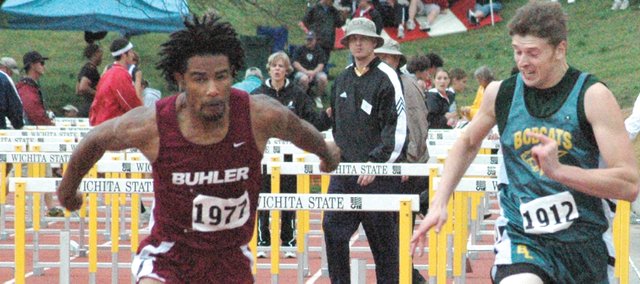 Wichita — Last year Scott Ogilvie left the Class 4A state track meet with a heavy dose of frustration after missing out on the state finals by .02 seconds in the 110-meter hurdles.
On Saturday Ogilvie was back at Wichita State University's Cessna Stadium to give it one more shot, and this time he left with a smile on his face and a state medal in his hand.
Ogilvie, a Basehor-Linwood High School senior, finished fifth in the 110 hurdles, with a time of 15.61 seconds.
Ogilvie simply was happy to be competing in the finals, however.
Of the eight hurdlers to advance to finals, Ogilvie was the slowest qualifier after squeaking in with a preliminary time of 15.34. Even that was an improvement on where he was seeded coming into state.
"I came in ranked ninth, so I wasn't even supposed to make finals," he said.
Once in the finals, Ogilvie knew it was a new race and his chances were as good as anybody's to medal. The top seven finishers medaled, so he knew he had to beat one person.
Ogilvie got out of the starting blocks quickly and was running even with a pack of runners for the first few hurdles. Then a couple of runners hit hurdles and their pace slowed. One eventually fell down.
Ogilvie ran a clean race though, hitting his three-step in stride and clearing each hurdle with ease.
"My goal was just to run my fastest race and be smooth," Ogilvie said. "I figured someone might trip up and fall and I didn't want to be that guy, so I just ran my best race."
When he crossed the finish line in fifth place, he put his hands on top of his head to catch his breath before flashing a brief grin.
Paola junior Joe Stephens was the state champion in 14.85, but Ogilvie medaled, too.
"I make finals and take fifth, and the competition is a lot better this year than last year, so I'm pretty happy with what I got," he said.
Ogilvie also competed in the 300 hurdles. He finished 15th in 44.66.