WWII

German POWs buried at Fort Leavenworth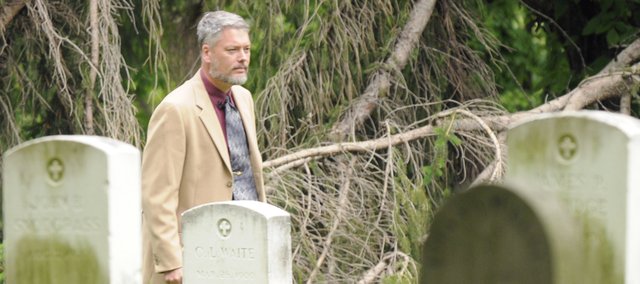 Fort Leavenworth — They knew they would be punished, but they didn't expect to be executed.
But during the summer of 1945, that is what happened to 14 German prisoners of war held in the U.S. Disciplinary Barracks at Fort Leavenworth. Their crime: killing three of their fellow German inmates caught collaborating with their American keepers.
"They thought the punishment was a little excessive," said Kendall Gott, senior historian at the U.S. Army's Combat Studies Institute at Fort Leavenworth.
The POWs were buried in the back row in the prison's cemetery, located on a secluded hill shaded by the drooping limbs of cedar trees and surrounded by a wire fence. They share the cemetery with criminals who happened to be in the U.S. military when they committed their crimes. According to some researchers, there are more than 200 bodies buried there, including those of murderers, rapists and thieves. Some were executed. No families bothered to claim their bodies.
The first burial in the cemetery was in 1884. The last was in 1957. Most were buried around the turn of the 20th century.
Three spies
Johannes Kunz was a German soldier who was held at a POW camp in Oklahoma. He passed notes to an American physician during sick call. One day his note was taken by a different physician who didn't read German and didn't know what Kunz was doing. He gave the note to another prisoner to take back to Kunz. The POW read the note and realized Kunz was a spy.
Kunz was later beaten to death by other prisoners.
Werner Drechsler was captured after his U-boat sank. He gave the United States information about the boats. He was segregated from other U-boat prisoners until he was taken to a camp at Papago Park, Ariz. Other POWs learned about his collaboration. He was beaten and hanged in a shower room.
Horst Gunther was German soldier in a POW camp in South Carolina when he was found hanging from a tree.
Once tried and convicted by the American military for the murders, all 14 POWs were transferred to the Fort Leavenworth prison to be executed. One of the prosecutors was Leon Jaworski, later of Watergate fame.
President Harry Truman declined to give the 14 clemency. By then the Allies had discovered the Nazi death camps and were learning the true nature of Hitler's regime. The United States was still at war with Japan, and Truman was considering the use of atomic bombs.
"When the request for clemency reached Truman's desk, he had a lot of other things on his mind," Gott said.
The executions
Before the war with Germany ended, it was feared that American and British prisoners who had killed collaborators in their prison camps would be executed as well. That fear ended when Germany surrendered in May 1945. The executions at Fort Leavenworth were carried out in three groups: Five on July 10, two on July 14 and seven on Aug. 25, all in 1945.
The POWs and other prisoners were kept in cells in a massive brick building called "the Castle." They were led to a warehouse a short distance away and taken to the second floor. Scaffolding had been built in an elevator shaft. The ropes dropped them into the basement.
"The German soldiers were very composed and resigned to their fate," Gott said. "There was no pleading; there was no sign of cowardice. They marched in a precision manner and they stood at attention."
The executions went smoothly, Gott said. Catholic and Protestant chaplains witnessed the hangings.
"I have mixed feelings about these guys," Gott said. "If I was a POW and I knew somebody was collaborating, I wouldn't hesitate to take them out, and I think most soldiers feel that way. On the other hand, if you get caught, you've got to pay the dues, and that's what these guys did."
Not forgotten
The POWs' tombstones are the cleanest and the whitest in the half-acre cemetery. Early last week several old, weathered bouquets of artificial flowers could be seen fastened into the top of the fence behind them. They may have been placed there, away from the graves, by maintenance crews during cleanups, Gott said.
There are many German descendants living in the Fort Leavenworth area, Gott said. It is generally thought that some of them decorate the graves of the POWs.
"On Memorial Day and then again on German Remembrance Day (in November) you'll see flowers," he said. "The 14 POWs are the attraction for this cemetery."
Col. Michael Oberneyer is the German Army's liaison officer at Fort Leavenworth. His office does not sponsor or organize any special observances or events at the cemetery for the Germans buried there, he said. And he said he didn't know anything about people who might decorate the graves.
"We respect the historical decisions of the U.S.," he said. "We would like to let them rest in peace."