Memoral Day salutes veterans, loved ones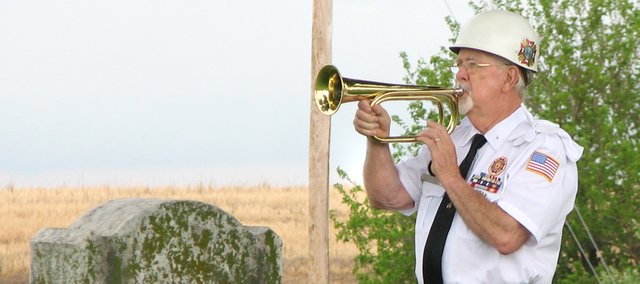 A gray sky and a few raindrops greeted members of the Basehor Veterans of Foreign Wars and guests on Memorial Day at Glenwood Cemetery.
But the threatening clouds held off just long enough for the VFW to complete the traditional ceremony Monday, May 26.
Steve McCord, U.S. Army, stood with his wife Brenda, daughter Aubrey and parents Barbara and Charles, who are Basehor residents, as the VFW rifle squad marched toward the flagpole in the center of the cemetery.
A year ago McCord participated in this same ceremony just a few days before he was deployed to Iraq. Now, he's back home just in time to see the ceremony again from the audience's perspective.
While the gray day and damp spring had most people complaining, McCord said he welcomed the rain after being in a desert environment for almost a year.
"Everybody keeps saying they're tired of all the rain," he said. "But it's kind of nice to see some."
VFW Commander Fred Box placed a wreath at the base of the flagpole then stepped back to salute the flag along with Wilbur Grisham, Dan Stueckemann and Harry Lewis. Hank Nahrebeski then instructed the rifle squad to prepare their weapons for the 21-gun salute. After the three short pops, Forrest Tuter began playing "Taps" on a bugle from his post underneath a nearby tree while Stueckemann raised the flag from half staff to full staff.
A small crowd gathered to view the ceremony, but McCord said it would have been nice to see more.
"I think there should be more young people out here participating," he said.
At least three young military bound men and women did decide mix in with the crowd to show their support. While Stueckemann's son Andrew, a graduate of Basehor-Linwood High School, will be headed to the Air Force Academy Preparatory School in Colorado Springs, Colo., for training in mid-July, two others present at the ceremony have already left town to begin their training.
Ruth Bailey, a soon-to-be senior at BLHS headed toward Fort Leonard Wood in central Missouri shortly after the ceremony Monday to begin Army National Guard basic training.
"I do have family in the military, but it's just something I felt was right for me," she said. "It gives me a chance to serve my country and help others and also do something that is bigger than myself."
The split option program allows her to complete the nine weeks of training this summer, return home in the fall to complete her senior year at BLHS, then finish eleven more weeks of training the following summer to begin her Military Occupational Specialty of 31 Bravo or Military Police. Bailey said it's up in the air right now whether her career choice will take her all over the country and overseas or keep her close to home, but she does know it's something she'd like to do for a long time.
"I plan on doing it until I retire and you're eligible to retire after 20 years," she said. "So, I plan on staying in for a while."
Taylor Kobe, a family friend of the McCords, also represented the younger population at the ceremony. The 18-year-old Edwardsville native just graduated from Bonner Springs High School and headed to Fort Benning, Ga., for U.S. Army basic training on Wednesday. After 13 weeks of training, he said he plans to come home and then go to Ranger school. While he said he doesn't have any specific goals right now, he plans to serve for several years.
"I just want to stay in as long as I can and be able to fight as long as I can," he said.