Parents remember son with
LEAP

scholarship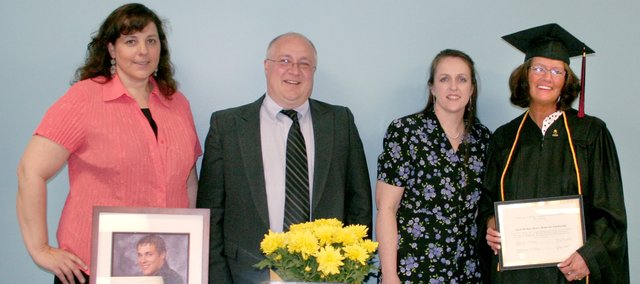 A Basehor family has turned their personal tragedy into an educational opportunity for some deserving students.
The Jared Michael Moore Scholarship is something the students in the Lansing Educational Achievement Program will be able to strive for every year to help them continue their education, and that's exactly what Jared's parents, Marlene and Richard Moore, had in mind when they first envisioned the scholarship.
Jared, a 19-year-old Fairmount Township volunteer firefighter, died from injuries he received in a vehicle accident while in the line of duty in December 2004.
"We were really excited to do something in his honor and help someone else achieve their dreams because he never got the chance to go back to school and become a firefighter," Marlene said.
Establishing the scholarship has been a few years in the making for the family. They received the stipend that families of fallen firefighters and police officers receive when their loved ones are killed in the line of duty and put some of that money aside for the scholarship. Once that was complete, they set out to find a suitable place to offer the scholarship. At first, they wanted to award it to a student studying fire science, but later decided it was too narrow. After informing area community colleges of the scholarship opportunity with limited avail, they finally got a bite from LEAP.
"LEAP got back to me immediately and they were just really excited," Marlene said. "They didn't have any other scholarships through their program."
LEAP is a diploma recovery program, said Lisa Lowman, LEAP coordinator. It allows adults of all ages to come back to school, work at their own pace and receive their high school diploma. While it's primarily an adult program, some high school aged students are permitted to attend to make up a credit or two to pass a class and graduate.
Marlene said they wish they would have thought of LEAP sooner, because Jared had finished his senior year through the program. It was perfect because the scholarship would have been something Jared could have worked toward, she said, and it will go to somebody who is not the traditional straight-A student, but someone who needs another chance.
"You're dealing with a population that might be going through a lot of changes," Lowman said. "My students might not get an opportunity any other way. It was just a great opportunity for them."
Lowman and the Moores worked together to develop an application for interested students, which asked the students to explain their educational plans after receiving their diploma. Five students made the effort this year and the Moores went through each application, talking with Lowman a little bit about each student and their background before making a decision.
A display with Jared's photo was set up at LEAP graduation May 16 and the Moores surprised the first-ever recipient of the $1,000 Jared Michael Moore Scholarship, Judy Settles, during the ceremony.
"The reason we chose her was because she had her plans made," Marlene said. "That was really the determining factor - her determination. She had more obstacles to overcome. She had to complete four years of high school in two years while working full-time. We just felt she would put it to the best use."
Lowman said Settles has plans to enroll in vet tech school and was shocked at receiving the honor.
"She was just overwhelmed I think," Lowman said. "She was one of our older students, so this is just going to change her life really."
Not only did the Moores help a student, but they also touched a few people in the audience by sharing Jared's story during the ceremony. Marlene said parents came up to them afterwards expressing their appreciation for the story because they had also lost a child or their children had gone through similar struggles in school.
"That was a big plus we hadn't really thought about," she said.
A picture of Jared along with a plaque bearing the names of the Jared Michael Moore Scholarship will hang in the school to remind students of the opportunity available to them.
"That will help my students," Lowman said. "That's just going to be a reminder for them all the time. We appreciate the Moores' generosity in thinking of our students."