Rural Tonganoxian joins growing list
Francis L. Hurla, a rural Tonganoxie Republican, joined a list of four other candidates in filing Tuesday, May 27 for the 3rd District Leavenworth County Commissioner's seat at the Leavenworth County Courthouse.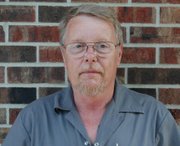 A heating, ventilating and air conditioning specialist, Hurla has owned and operated Hurla Heating and Cooling in Tonganoxie for 15 years.
He also served as Tonganoxie Township clerk for several years in the early 1980s and has lived in the area for 30 years with his wife, Mary K.
Francis Hurla, along with Republicans John Flower, Marvin Torneden, Bill Merkel and Dave Taylor will bid for current commissioner Dean Oroke's seat when Oroke steps down in January 2009.
"I just feel that the people in our district should be a little better represented than they are now," Hurla said as his reasoning for filing for office.
He mentioned, in particular, being "really irritated about County Road 1," a multimillion-dollar improvement project that will give Leavenworth County its first direct access to a federal interstate highway.
Hurla said, in talking with 3rd District residents, that people's main concern is improving roads, and, he said, local roads should take priority over County Road 1.
No Democrat has yet filed for the commission seat, meaning an Aug. 5 primary could determine who assumes the position, barring the incidence of a write-in winner.
Candidates for all elected offices must file or withdraw their bid for office before a June 10 deadline.
Following the August primary, a general election will be held Nov. 4.
For more information or to register to vote, contact the Leavenworth County Clerk's Office at (913) 684-0421.