Voters oust two incumbents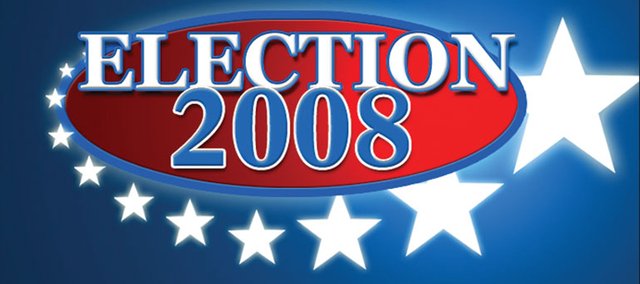 Leavenworth County voters handed two incumbents their hats in Tuesday's elections, turning out a one-term Republican state senator and a six-term Democratic district attorney..
Democrat Tom Holland unseated incumbent Republican Roger Pine in the 3rd Kansas Senate District.
Holland of Baldwin City, captured a total of 18,398 votes for 48 percent of the vote in Douglas, Jefferson and Leavenworth counties. Pine received 17,523 votes for 46 percent, followed by Libertarian Patrick Wilbur with 5 percent and 2,058 votes.
"I'm just extremely pleased and delighted that the residents of the 3rd District are going to give me the opportunity to represent them," said Holland, who since January 2003 had represented the 10th Kansas House District.
Holland said both he and Pine worked hard and ran aggressive campaigns, but Holland also thinks this was "a Democratic year."
Pine, who had held the Senate seat since 2005, said he was disappointed about the loss.
"There are an awful lot of good people who helped support me in many ways," he said.
Pine came under fire in the campaign when documents listed him as living at a rural Lawrence residence when he also had a home in rural Linwood, both in his Senate district. He said he believed until the August primary election that he could choose to vote in either election "until I was told otherwise." He then reregistered to vote in Leavenworth County.
Pine declined to say if the thought the controversy over his residency hurt his re-election bid.
"There were a lot of things that didn't help," he said. "I've been very positive about how I approached this, and I'm not turning negative now."
• Kohl out after 24 years
In the Leavenworth County attorney's race, Republican challenger Todd Thompson is the winner after defeating 24-year incumbent Frank Kohl.
Thompson outpolled Kohl by more than 7,000 votes, 17,558 to 10,529.
"I'm very happy that I won," Thompson said. "I just put in a whole lot of work and got to meet a lot of people. I had a lot of great support and couldn't have done it by myself."
Earlier this year, when Thompson was a prosecutor in the County Attorney's Office and he told Kohl he was running for the position, Thompson was dismissed from his position. Thompson said Kohl told him the reason for dismissal was "a lack of judgment and forthrightness in the office."
Thompson said he wasn't sure whether the situation affected the outcome of the election.
Kohl on Wednesday said he was ready to move forward.
"This is the way our system works and the voters cast their ballots and we accept their decision and we go on from there," Kohl said. "This is just the way the system works. I wouldn't change it for anything."
• O'Brien takes Moran in 42nd
The race for the seat held by retiring longtime State Rep. Kenny Wilk was neck and neck for much of Tuesday evening, but Kansas House 42nd District voters decided to return a Republican to Topeka.
Republican Connie O'Brien defeated Democrat Timothy Moran, 7,440 to 5,036.
"Of course I'm pleased that I won," O'Brien said. "I want to thank my supporters and people's hard work on my campaign. I couldn't have done it without them."
O'Brien said she appreciated the way the campaign between her and Moran was run. O'Brien said she thought it was a "very clean, very good" campaign.
As she prepares to take office, O'Brien said issues such as the budget, immigration and the highway transportation plan will be on her list of priorities.
Moran said he was happy with the way his campaign was run. He said he always tried to be himself and that he believes the fact that the race was so close shows that his message got out.
"I'm pleased with the results," he said. "Receiving 5,000 votes as a first-time candidate is significant. I want to congratulate Mrs. O'Brien on her win."
• Zoellner retains sheriff's position
Sheriff Dave Zoellner, a Democrat, finished with an advantage of just more than 2,300 votes against Republican and retired Leavenworth Police Lt. James Dyson.
Zoellner could not be reached for comment. Dyson said he obviously didn't like the outcome, but he said he was proud and appreciative of the work his supporters did.
"Of course I'm unhappy, but life goes on," Dyson said.
In the same breath, Dyson, said he would look at running for sheriff again in four years.
"I'm 59 right now, so if I feel like I do four years from now as I do now, I'll probably go for it," Dyson said.
• Flower secures commission seat
Republican John Flower won the Leavenworth County Commission District 3 race with 5,853 votes compared to Democrat Pete Henderson's 5,177.
Flower, 62, who is retired from AT&T, won the race against the 66-year-old Henderson, who is a retired auto and home insurance sales manager.
"I'd really like to thank the people for putting their faith in me. It's very humbling and very rewarding at the same time," Flower said.
Now that the election is complete, Flower said he was anxious for January when he would take office and start work.
"I'm excited to work with other Leavenworth County commissioners to continue to keep Leavenworth County a good place to live and good place to work and yet be affordable while maintaining its country charm," he said.
Henderson said he called Flower to congratulate his opponent on the win.
"I enjoyed the experience and met a lot of nice people along the way," Henderson said. "I obviously wish it had turned out differently, but it was definitely a positive experience."
— Reporters Mike Belt and Shawn Linenberger contributed to this article.