Youths hear veterans' stories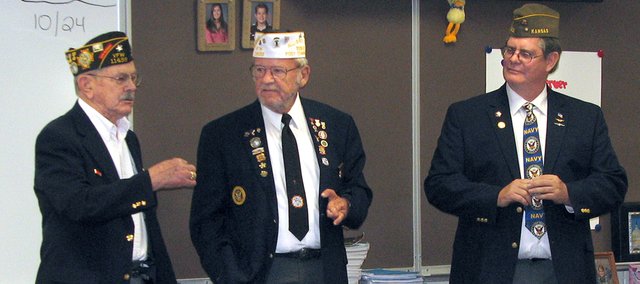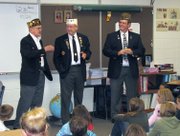 Veterans Day is quickly approaching and Michelle Ablard, fifth-grade teacher at Basehor Elementary School, is making sure her students are prepared.
For the past few weeks, a local veteran has visited the fifth-graders at BES every Friday to talk about the experiences they've had while serving their country.
Ablard said the students have made a video in the past commemorating veterans and have shown it to members of the Basehor Veterans of Foreign Wars on Veterans Day. This year, with the help of the veteran talks, the video should be even better.
"Last year they made a video, but they didn't know the experiences behind the people they were commemorating," she said. "Now they'll have a better understanding."
However, last week was a surprise for not only the students, but Ablard as well. VFW Commander Fred Box along with VFW members Wilbur Grisham and Dan Stueckemann, who had already spoken to the class, showed up to present Ablard with the National Citizenship Education Teacher Award on the elementary level for the state of Kansas. The contest started at the local level and Ablard ended up being one of 50 teachers who traveled to Washington, D.C. for a shot at the overall national award.
"Teachers change our society one class at a time," Stueckemann said. "There's no more important job and there's no one that does it better. Thank you Michelle."
After presenting the award, the veterans went on to answer any questions the children had. They told tales of teamwork from receiving help from a fellow soldier to assistance from another branch of the military. Stueckemann explained that Team America is the Army, Navy, Marines, Coast Guard and Air Force combined.
"It's not only an army of one, it's a service of one," Box said. "One person cannot win the game. It takes everybody."
Besides coming home, they shared their happiest or proudest moment of service. Stueckemann, a Navy veteran, said his first day stands out in his mind, listening to the William Tell Overture while guys patted him on the back and said, "go get 'em."
Grisham, an Army medic during WWII, said nothing made him prouder than his line of work.
"The best thing I ever did was take care of wounded men and send them home alive," he said.
The men reminded the students that they are lucky to live in the community of Basehor and said that while they've been all around the world, right here is the best place to be.
"The best place in the world in right here; home," Box said. "There's beautiful countries, but there's no place like the United States. You're fortunate to be in this country and you're fortunate to be free."