Students raise funds with parking-space raffle
Money to be donated to Chapman schools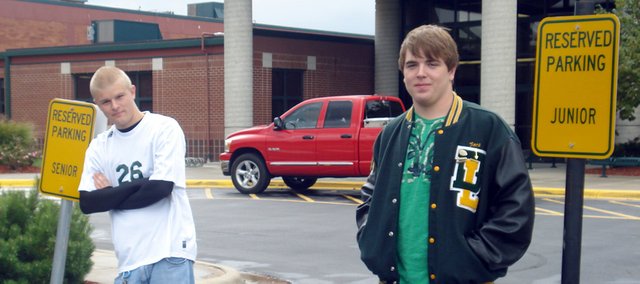 Donating a dollar could provide Basehor-Linwood High School students VIP parking.
In an effort to help the Chapman School District, whose school buildings were badly damaged this summer when a tornado blew through the town, BLHS student council members are asking their fellow students to donate a dollar during seminar to buy a parking ticket that will be entered into a drawing.
"Every Friday we go around to all the seminars and offer parking tickets for $1," senior Kara Douglas said. "Then we draw one out of each class and make an announcement."
Four signs that read "senior," "junior," "sophomore" and "freshman" are now in the teacher parking lot at BLHS reserving a spot for the lucky students who win the parking ticket drawing each Friday.
While the students are just getting started on the fundraiser, they hope students will become more interested in the project as the year goes on since they plan to offer the tickets throughout the school year.
"We thought it would be a good way to have a friendly competition between the classes," senior Lucas Turner said. "Our main goal is to raise school spirit."
The student council members said they suspect upcoming colder weather and snow will also play a factor in raising interest in the fundraiser.
"If it's raining or snowing, the door is right there," Turner said.
The city of Chapman, about 30 miles southwest of Manhattan, was hit by a tornado June 11, causing minor to extensive damage throughout the town and severe damage to all three of the school district buildings. All the money raised during the BLHS parking ticket fundraiser will go to the Chapman School District to help them repair and rebuild their schools.