Department receives name upgrade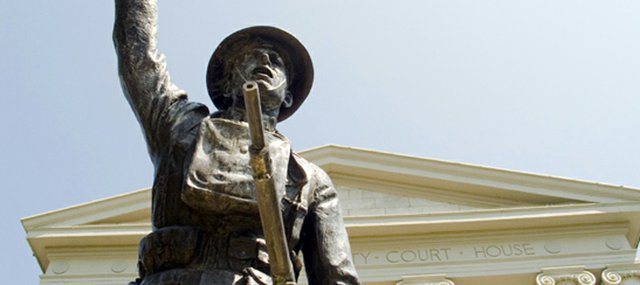 The last remnants of the special buildings department are now gone.
On Thursday, the Leavenworth County Commissioners agreed to change the name of the department to Buildings and Grounds as requested by John Forslund, deputy director of buildings and grounds.
"It more accurately describes what we do," Forslund told the commission during his monthly report.
The report stated that the department does more than focus on buildings. It also plows snow, mows grass, trims trees, purchases materials and manages contractors.
"Makes sense to me," Commission Chairman Clyde Graeber responded.
The Special Buildings Department became a part of the Public Works Department after Tim Goetz, special buildings director, resigned in October.
In other business the county commission:
• Met on Thursday in executive session with County Counselor David Van Parys and County Administrator Heather Morgan to discuss potential litigation. The group also met on Tuesday in executive session for 15 minutes to discuss potential litigation.
• Accepted a $6,959 bid from Cross Midwest Tires for four new tires for a New Holland backhoe and to fill the new tires and two additional tires with foam.
• Discussed the liability the county is putting itself in if it continues to allow county residents unsupervised access to the transfer station to pick up tree debris for firewood.
Van Parys was concerned about the county's liability even if a resident singed a liability waiver before retrieving the wood. No action was taken on the subject, but Jason Auvil, director of solid waste, was directed to make phone calls to other municipalities to see how they handle the same situation.
• Tabled a motion on Monday to consider a final plat for Hupp's Prairie Acres until they can get more information on the property. The lot may have been split illegally and a resolution from 1977 has left a public road near the property to be maintained by the land owner.
"I don't like the idea that we have a publicly dedicated road that we are allowing somebody else to provide the maintenance on, which creates one terrible liability from my perspective," Commissioner Dean Oroke said.