Grocery store, city near agreement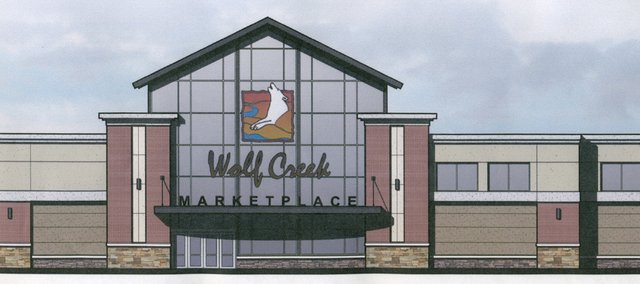 Basehor residents appear closer to having a grocery store and a new access point at 150th Street and U.S. Highway 24-40 after discussions Monday evening at the Basehor City Council work session.
Developer Ed McIntosh of Benchmark Management is urging the city to combine two street projects together to make an overall improvement to the area and increase opportunities for success of the Wolfcreek Junction development.
McIntosh reviewed two options for consideration by the city. Option A proposed a private $1 million financing by Benchmark to complete the $1.5 million Wolfcreek Parkway project plus $500,000 in Kansas Department of Transportation corridor management funds. The city would delay construction of the estimated $1.5 million 150th intersection project until a later date.
Under Option B, both the 150th intersection and Wolfcreek Parkway projects would be grouped into one project, to be financed through a KDOT highway loan, the $500,000 corridor funding and revenue from the Transportation Development District.
McIntosh said the city obviously has more risk in Option B but potentially greater benefits for the development and the city through higher sales tax revenue.
Council member Iris Dysart restated her opposition to the use of taxpayer dollars to fund private development. Council member Jim Washington said he felt both the 150th intersection project and Wolfcreek Parkway should be pursued and completed sooner rather than later. Council member Keith Sifford expressed support for making both improvements, saying the number one issue on the minds of constituents four years ago was development of a grocery store, and this was necessary to make it happen.
Steve Miles, owner of Miles Excavating on the south side of 150th and U.S. 24-40, said he had discussed the construction of acceleration/deceleration lanes with KDOT metro engineer Jim Pickett. Miles said he was bargaining with KDOT to grant a future 150th Street right-of-way across his property in return for construction of acceleration/deceleration lanes on the south side of the 150th Street intersection and completion of acceleration/deceleration lanes at 147th Street into the proposed Wolfcreek Industrial property.
Discussions also took place regarding traffic flow from the south and how it would affect property owners who currently use 150th Street to access U.S. Highway 24-40.
Miles said he felt the city should continue to support development of the best future industrial site in the Basehor area by agreeing to fund half of the estimated $22,800 expense for an engineering analysis of the property.
In other business at Monday's work session:
• Dustin Smith, city planner, reviewed proposed revisions to the Basehor sign codes. He went through pictures of many of the existing signs in the Basehor area, both business and entry signs for subdivisions. It appeared most of the existing signs would be in noncompliance with the new criteria. Council member Roger McDowell felt most of the existing signs looked OK, were not objectionable, and that the new sign codes should be modified to allow the larger signs to be utilized. He said he felt signs needed to be large enough to be easily seen from the highway.
• Work by city engineer Dave Lutgen, MHS Engineers, on the Cedar Lake Estates annexation proposal was reviewed. Comments centered on whether residents would be allowed to continue using Bumpy Roads garbage collection and if some street address signs would need to be changed to conform with city street-naming conventions.
• The proposed 2009 wage scales were reviewed. Council member Jim Washington favored putting all the increases toward police officers to aid recruiting. Dysart said she felt the employees were overpaid. Council member Terry Hill, Mayor Chris Garcia and Sifford favored approval of the proposed 5 percent increase to be distributed equally among all employees with a bonus to police officers if the area comparison showed it was necessary. More information was requested to compare Basehor wage rates with the surrounding cities.