New pharmacy opens its doors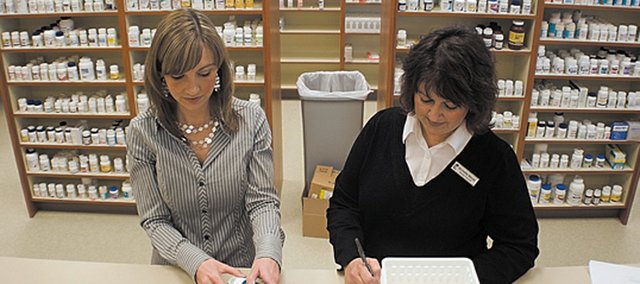 Basehor just added a new business.
On Monday the doors officially opened for the new Medicine Store, just southeast of U.S. Highway 24-40 and 155th Street.
"The staff has worked really, really hard and a lot of credit goes to them," said store owner Gary Holst, who also opened a new store last week in Tonganoxie. "We probably could have held off another 30 days and opened a month form now and we still wouldn't have been ready."
Holst said it would be about another month before the retail portion of the store was fully stocked, but the pharmacy was fully stocked and functional.
Holly Sebree, who graduated this year Kansas University, will be the pharmacist in charge. She said Monday that she was excited to be starting in the new position.
Holst thinks she will do a great job.
"She's very capable, very knowledgeable and a very good pharmacist," he said.
The new identical stores have about twice as much floor space as the old Holst Pharmacy in Tonganoxie. The added floor space means more products on the shelves.
The new stores will also feature a drive through to pick up and drop off prescriptions and plenty of parking.
The new buildings also have enough space for the pharmacy and another office.
"We have space in both buildings for lease," Holst said. "We are hoping to get a medical practice, whether it's a doctor's office or a dentist."