Grocery store eyes future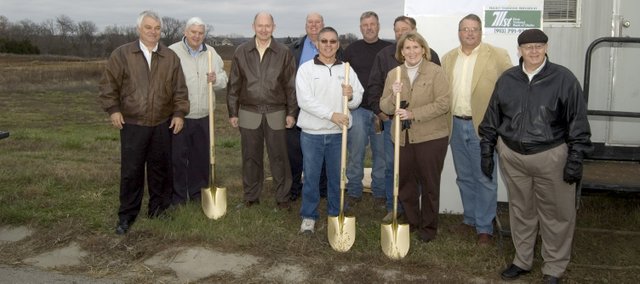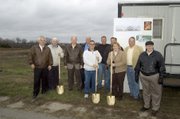 It might have been an overcast day complete with a stiff wind and cool temperatures Friday, but officials who gathered for a ceremony at the Wolf Creek Junction believe the future to be bright for what is hoped to be a major Basehor retail hub.
Owners of the future grocery store, Kevin Barclay, John Bell and Ed McIntosh, were on hand Thursday with other officials for a short ceremony recognizing construction starting on the grocery store. Work has started on Wolf Creek Marketplace, which will be an Affiliated Foods Midwest grocer. The store, which is to be 43,650 square feet in area, has been in the works for roughly two years.
The grocery store is expected to be an anchor for the Wolf Creek Junction development, near the northeast corner of 155th Street and U.S. Highway 24-40. McIntosh and Bell, owners of Benchmark Development, own the development.
On Thursday, McIntosh described his feelings as he looked out onto the construction site and saw all of the plans for the grocery becoming a reality.
"It feels good; it feels great," McIntosh said. "Unbelievable."
McIntosh said if weather cooperates and everything goes according to plan, the store should be ready for business in early summer 2009.
It would be the first grocery store for Basehor since 2001, when a fire destroyed several businesses in what is now Basehor Town Square, which is to the west of Wolfcreek Junction on the other side of 155th Street.
"The developing and planning, it was just a long road to hoe, but we got it done," Barclay said.
According to Bell, one or two people ask him daily about the grocery store, and he's also hearing interest from people throughout southern Leavenworth County and even McLouth about the store. In addition, he said what he's most proud of about the project is that the grocery store will anchor a development that is expected to serve the entire community.
"It's going to be looking like more of a city than a small town," Bell said.
McIntosh said he and his development partners have been pleased with how the project has been a group effort — the Basehor City Council, Mayor Chris Garcia and the Kansas Department of Transportation working together to move everything forward with consideration for access along U.S. Highway 24-40.
"There's been a total group effort to make this project come alive," McIntosh said.
Also on hand Thursday were Diane Myers and Dennis Monahan of First National Bank of Olathe, which is financing the project; Bill Gillmor of Citywide Development; Basehor City Administrator Carl Slaugh; Basehor Mayor Chris Garcia; and Bill Huninghake, retail development counselor, and Rich York, retail supervisor, for Affiliated Foods Midwest in Elwood.