Local businesses discuss 'thriving' in current economy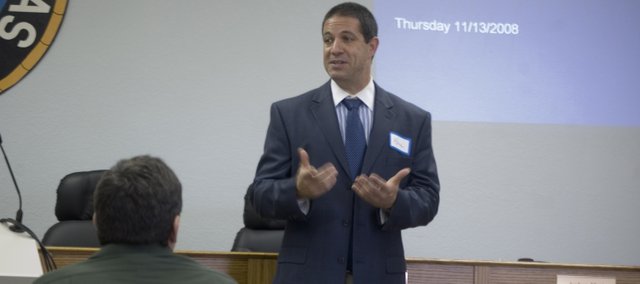 With the U.S. economy in a tailspin recently, some local small business owners are wondering how they will be affected and what they can do to stay afloat.
Those were the kind of things discussed on Thursday at the Tonganoxie City Council chambers as the Tonganoxie Chamber of Commerce hosted a seminar that doubled as a roundtable discussion on the subject of "Thriving in a Challenging Economy."
Will Katz, director of the Kansas University Small Business Development Center, spoke at the meeting, opening the discussion with an overview of, as he called it, the interesting time in which we live.
He highlighted this year's economic lowlights, such as the $700 billion financial bailout and the fact that there have been 29 bank failures this year compared to two in 2007 and zero in 2005 and 2006. All of these things, Katz said, should be a sign of challenging times for small businesses — those that have less than 500 employees and a revenue of less than $100 million.
He offered three important factors small businesses should focus on: "practice cash flow management," "never stop selling" and "understand change."
Profits are important, Katz pointed out, and he suggested if people were having trouble making their monthly payments, they should initiate a dialogue with their banker to find possible solutions. When cash gets tight, he said, businesses must have a plan to keep their doors open.
Advertising alone, Katz said, won't cut it these days. He stressed the importance of salesmanship and told business owners they need to find their "sustainable competitive advantage" and stick with it.
Just as important, Katz said, are both the presence of a business plan and the ability to adapt, which he said requires "hard work and smart work."
Ultimately, Katz opined, the economy will get healthy.
"We live in an entrepreneurial nation," he said.
After his presentation, Katz opened the floor for discussion. Local entrepreneurs first breached the topic of the Internet and how Web sites are proving to be better than an advertisement in the phone book.
Darlyn Hansen, owner of Amanna Elan Bed and Breakfast, said the small hotel often attracts customers via the Internet, estimating 60 percent of its clientele are from out-of-towners who find it online.
Kurt Young, Service Master, brought up the recent change in cash flow his industry (disaster restoration) has seen. He said the company's commercial clients haven't changed, but more and more residents just don't have the money it takes for their services. The cash flow also has been affected as insurance companies aren't able to cover costs as quickly as they could just a few months ago.
Not-for-profit businesses are getting hit hard as well. Regular contributors have other things on their minds with the struggling economy.
"We're in such a state of nobody knows," Katz said.
De'An Ray said her business, Windstorm Ranch, an online western store, picked this fall for expansion not knowing about the trouble that lied ahead for the economy. She said orders "hit a brick wall" once the economy dropped.
The KU Small Business Development Center offers free counseling to small businesses and Katz encouraged those who are interested to give him a call at (785) 843-8844.